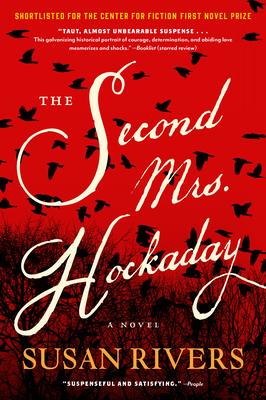 The Second Mrs. Hockaday
A Novel
Paperback

* Individual store prices may vary.
Other Editions of This Title:
Digital Audiobook (1/9/2017)
Hardcover (1/10/2017)
Compact Disc (1/10/2017)
MP3 CD (1/10/2017)
Hardcover, Large Print (3/22/2017)
Description
When Major Gryffth Hockaday is called to the front lines of the Civil War, his new bride is left to care for her husband's three-hundred-acre farm and infant son. Placidia, a mere teenager herself living far from her family and completely unprepared to run a farm or raise a child, must endure the darkest days of the war on her own. By the time Major Hockaday returns two years later, Placidia is bound for jail, accused of having borne a child in his absence and murdering it. What really transpired in the two years he was away?

A love story, a story of racial divide, and a story of the South as it fell in the war, The Second Mrs. Hockaday reveals how this generation—and the next—began to see their world anew.
Algonquin Books, 9781616207366, 288pp.
Publication Date: November 14, 2017
About the Author
Susan Rivers was awarded the Julie Harris Playwriting Award for Overnight Lows and the New York Drama League Award for Under Statements. She is also the recipient of two playwriting grants from the National Endowment for the Arts. She holds an MFA in fiction writing and lives in South Carolina. The Second Mrs. Hockaday is her first novel. Find her online at www.susanriverswriter.com.
1. The story is told in documents—letters, inquest reports, and diary entries—rather than a continuous narrative from one point of view. What do you think the writer intended to achieve by using this approach to the story? What was the effect on you as a reader?
2. Placidia agrees to marry Major Gryffth Hockaday after knowing him for less than a day. What do you think motivates her to accept his proposal?
3. Discuss the role played in the novel by the ghost of the first Hockaday. Why do you think she haunts Holland Creek? What does her relationship with Placidia tell you about the second Mrs. Hockaday?
4. Placidia seems to have a close relationship with her father, Quincey Valois Fincher, but her perception of him changes when she discovers that he fathered a child with a slave girl while Placidia's mother was alive and allowed that child to be sold away. Recent genetic evidence shows that many of our country's founding fathers, including Thomas Jefferson and George Washington, maintained "shadow" families of mixed-race descendants on their plantations. How do you think high-society Americans in the eighteenth and nineteenth centuries rationalized the sexual exploitation of enslaved African American women?
5. Many people in Holland Crossroads believe that Placidia murdered her infant son before burying him on the farm. Placidia denies harming the baby. What version of events do you believe?
6. Discuss Gryffth Hockaday's state of mind as you interpret it from his letters to Placidia. How do his views on the war appear to change? How does he view his responsibility to Placidia?
7. Placidia's grown son, Achilles Hockaday, is repeatedly instructed by his father to burn the copy of David Copperfield that contains Placidia's wartime diary. Discuss Achilles's decision to read his mother's diary. Would you have done the same?
8. Placidia's final entry in her diary is also the conclusion of the novel. Do her final words and images leave you hopeful? Sad? Enlightened? Conflicted? What do you think she means by the statement "Paradise . . . costs too much" (page 254)?