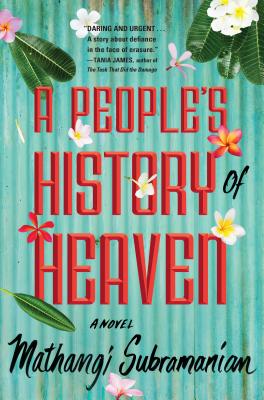 A People's History of Heaven
Hardcover

* Individual store prices may vary.
Other Editions of This Title:
Digital Audiobook (3/18/2019)
Digital Audiobook (4/6/2020)
Paperback (1/14/2020)
Compact Disc (3/19/2019)
MP3 CD (3/19/2019)
Description
"The language [takes] on a musicality that is in sharp contrast to the bleak setting . . . refreshing . . . a strong debut."
—New York Times Book Review
 
"Subramanian writes with empathy and exuberance, offering a much-needed glimpse into a world that too many of us don't even know exists. This is a book to give your little sister, your mother, your best friend, yourself, so together you can celebrate the strength of women and girls, the tenacity it takes to survive in a world that would rather have you disappear."
—Nylon
In the tight-knit community known as Heaven, a ramshackle slum hidden between luxury high-rises in Bangalore, India, five girls on the cusp of womanhood forge an unbreakable bond. Muslim, Christian, and Hindu; queer and straight; they are full of life, and they love and accept one another unconditionally. Whatever they have, they share. Marginalized women, they are determined to transcend their surroundings.  
When the local government threatens to demolish their tin shacks in order to build a shopping mall, the girls and their mothers refuse to be erased. Together they wage war on the bulldozers sent to bury their homes, and, ultimately, on the city that wishes that families like them would remain hidden forever.

Elegant, poetic, and vibrant, A People's History of Heaven takes a clear-eyed look at adversity and geography--and dazzles in its depiction of these women's fierceness and determination not just to survive, but to triumph.
Praise For A People's History of Heaven…
"Subramanian foregrounds the stuff that makes these girls human, rather than a mass of lumpen slum-dwellers . . . A People's History of Heaven does not reduce its characters to dozens of fists raised in the air, but instead gives a full account of the extraordinary lives that stand shoulder-to-shoulder in the wreckage of a wealthy city, ready to fight against the bulldozers upon the horizon."
—The Believer

"The power of these fierce young women shines in spite of their circumstances, and they prove just how beautiful and influential a strong, unconditionally accepting community is. Subramanian is a remarkable writer whose vibrant words carry a lot of heart. This inspiring novel is sure to draw in readers with its lyrical prose and endearing characters."
—Booklist

"A vibrant novel . . . a beautiful story of love, loyalty, and female friendship."
—HelloGiggles

"[A] colorful, dramatic coming of age story."
—Ms. Magazine

"Spending time with this fearsome five is . . .  just plain fun. Slum life is never romanticized. The narrator, an unnamed member of the girls' inner circle, delivers enough cynical wisdom and pithy commentary to show just how wise these girls are to their plight without dismissing how insidious cultural messages are. What crystalizes is the sure knowledge that none of them are powerless . . . A People's History of Heaven forefronts human dignity and the intelligence it takes to survive at the intersection of so much society uses to set people apart, while also making it clear that, 'in Heaven, anger is not about any one person. It's about the whole world.'"
—Foreword Reviews

"Subramanian's observations are sharp, witty, and incisive; her writing is consistently gorgeous. She is passionate about the plight of Indian girls subjected to a patriarchal system that ruthlessly oppresses and devalues them . . . In depicting the societal ills that oppress India's women, Subramanian refuses to acquiesce to the plot that fate seems to have written for these girls."
—The Washington Independent Review of Books

"Everything about A People's History of Heaven is wonderful: the lyrical, light touch of the narrator, the story, the humor, and most of all, the girls. Faced with bigotry and bulldozers, these girls know exactly what to do: stick together and help each other learn, love, see, fight. These are girls who save the world."
—Minal Hajratwala, award-winning author of Leaving India

"How can a novel about a group of daughters and mothers on the verge of losing their homes in a Bangalore slum be one of the most joyful and exuberant books I've read? Subramanian writes without a shred of didacticism or pity, skillfully upending expectations and fiercely illuminating her characters' strength, intelligence, and passionate empathy. A People's History of Heaven should be a case study in how to write political fiction. Each page delighted and amazed me."
—Heather Abel, author of The Optimistic Decade

"Wonderful . . . The stories of these young women . . . are full of emotion and drama, and also fierce power and hope. Their relationships and support for one another is inspiring, making this a beautiful testament to friendship and individuality. More LGBTQ+ novels about people of color, please!"
—BookRiot

"It has the heart-on-its-sleeve melodrama of some of the most successful teen novels and films, though it will likely also appeal to adults wanting to tuck in to a novel which is like the brainy big sister of a Lifetime movie. A girl power-fueled story that examines some dark social issues with a light . . . touch."
—Kirkus Reviews

"Poetic . . . Subramanian's rich imagery conjures up the bustle of a diverse city where children live in poverty mere blocks from three-story homes where their mothers work as maids. With its heroic young cast, A People's History of Heaven has huge YA crossover potential, and its social commentary makes it a wonderful book club selection. As colorful as a Rangoli design, this bittersweet coming-of-age story will linger in the reader's mind."
—Shelf Awareness

"Subramanian sets her story within the harsh reality of Indian slum life but neither sentimentalizes the poverty of the girls nor dwells on it. Instead, she shows their potential and the joy that they can find with each other."
—Real Change News

"Perfect for readers who want to learn more about Indian and South Asian culture, or for readers who love stories featuring strong female friendships."
—Reading Women podcast

"What a thrill to read a novel as daring and urgent as A People's History of Heaven. It's a story about defiance in the face of erasure, about the survival tactics of an unforgettable group of girls. I can't remember the last time I encountered a voice of such moral ferocity and compassion." 
—Tania James, author of The Tusk That Did the Damage
Algonquin Books, 9781616207588, 304pp.
Publication Date: March 19, 2019
About the Author
Mathangi Subramanian is an award-winning Indian American writer, author, and educator. She is a graduate of Brown University and the Teachers College of Columbia University, and the recipient of a Fulbright as well as other fellowships. Her writing has previously appeared in the Washington Post, Quartz, Al Jazeera America, and elsewhere. This is her first work of literary fiction.  
or
Not Currently Available for Direct Purchase