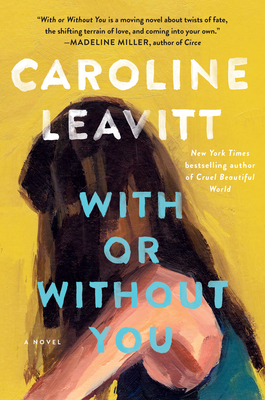 With or Without You
A Novel
Hardcover

* Individual store prices may vary.
Other Editions of This Title:
Digital Audiobook (8/3/2020)
MP3 CD (8/4/2020)
Paperback (6/29/2021)
Compact Disc (8/4/2020)
Description
"Leavitt has crafted an irresistible portrait of midlife ennui and the magic of breaking free."
—People

"With or Without You is a moving novel about twists of fate, the shifting terrain of love, and coming into your own. With tenderness and incisive insight, Leavitt spotlights a woman's unexpected journey towards her art." —Madeline Miller, author of Circe

A Best Book of the Month: Bustle * PopSugar 

New York Times bestselling author Caroline Leavitt writes novels that expertly explore the struggles and conflicts that people face in their search for happiness. For the characters in With or Without You, it seems at first that such happiness can come only at someone else's expense. Stella is a nurse who has long suppressed her own needs and desires to nurture the dreams of her partner, Simon, the bass player for a rock band that has started to lose its edge. But when Stella gets unexpectedly ill and falls into a coma just as Simon is preparing to fly with his band to Los Angeles for a gig that could revive his career, Simon must learn the meaning of sacrifice, while Stella's best friend, Libby, a doctor who treats Stella, must also make a difficult choice as the coma wears on.

When Stella at last awakes from her two-month sleep, she emerges into a striking new reality where Simon and Libby have formed an intense bond, and where she discovers that she has acquired a startling artistic talent of her own: the ability to draw portraits of people in which she captures their innermost feelings and desires. Stella's whole identity, but also her role in her relationships, has been scrambled, and she has the chance to form a new life, one she hadn't even realized she wanted. 

A story of love, loyalty, loss, and resilience, With or Without You is a page-turner that asks the question, What do we owe the other people in our lives, and when does the cost become too great?
Praise For With or Without You: A Novel…
"What if Snow White woke up and decided she didn't much like Prince Charming? Something like that happens in Leavitt's latest novel . . . One character's coma is only the first surprise in this satisfying story of middle-aged love."
—Kirkus Reviews, starred review

"A page-turner by The New York Times bestselling author and co-founder of "A Mighty Blaze," this story about a nurse who falls into a coma raises issues of loyalty, friendship, love and life, all set to music."
—Good Morning America Online (New Must-Read Books for the Ultimate Escape in August)

"By the author of 2010's best-selling Pictures of You, among other novels, it's a moving story with characters you can't help but care for, especially Stella, who must build a new life after her brush with death."
—AARP "2020 Summer Book Preview: 12 Unique Novels to Choose From"

"Leavitt's seamless writing easily carries readers through the compelling story . . . Leavitt's fans and readers of domestic drama will be thrilled."
—Booklist

"A poignant, instantly compelling novel…This is an unflinchingly raw and honest novel, but it is also propulsive and suspenseful. The characters are so wholly realized and developed that they seem to move on their own, with Leavitt simply pulling the strings above them. She is a brave and risk-taking author, and With or Without You is a perfect picture of what she can do when left with a spark of inspiration and a gripping premise."
—Bookreporter.com

"What I like best about Leavitt—her signature perhaps—is her fearlessness with plot. I'll take a good coma story with a miracle recovery anytime."
—Minneapolis Star Tribune

"Engaging, emotional, and even joyous, it may be the perfect novel for this moment in time . . . The prose is so propulsive I nearly got whiplash turning the pages."
—Long Island Woman Magazine

"A redemption tale anchored in a medical chronicle, threaded with the finest filaments of magical realism."
—The Santa Fe New Mexican

"A wonderful novel about life as mess and disappointment, life as catastrophe and regret, but also life as transformation and resilience. Leavitt's characters are great company, and watching them find a way forward in their suddenly altered world is a joy. Deeply engaging, tense but hopeful, and completely recommended."
—Karen Joy Fowler, author of We Are All Completely Beside Ourselves

 "With or Without You is a compulsively readable novel of artistic ambition and the various betrayals lovers and friends both endure and inflict on each other. It also asks fascinating questions about the stability of the self and our capacity—erhaps even our secret desire?—to reinvent ourselves. Caroline Leavitt is a born storyteller, and this is one knockout of a story."
—Christopher Castellani, author of Leading Men

"Caroline Leavitt has accomplished in With or Without You the hardest but most profound task of the novelist: she makes us not only understand but care about characters as flawed as ourselves.  Stella, Simon, and Libby straddle the ravine between hip urbanity and soulful vulnerability—each achieving a redemption that gives us hope that we might too."
—Lisa Gornick, author of The Peacock Feast

"With or Without You is a moving novel about twists of fate, the shifting terrain of love, and coming into your own. With tenderness and incisive insight, Leavitt spotlights a woman's unexpected journey towards her art."
—Madeline Miller, New York Times bestselling author of Circe

"What a compelling, wonderful read this book is. With or Without You asks the great question of what happens to a long-loving couple if one of them changes utterly. This novel gives us high drama while keeping the fairest possible view of the messy lives of these characters. Another triumph for Caroline Leavitt."
—Joan Silber, bestselling author of Improvement
 
"Caroline Leavitt's new novel With or Without You seduced me instantly and held my heart from the first page to the last. Like Elena Ferrante's raw and intimate explorations into human relationships, this novel will make you laugh, cry, yell, and possibly more. At the heart of the story is the art of a woman's life, pulsing with beauty, desire, loss, never-ending change, and the grit it takes to keep going."
—Lidia Yuknavitch, bestselling author of The Book of Joan

"It was if I were falling in love: flushed, fascinated, filled with hope, fear and joy. Leavitt's exploration of the many ways in which we change over the course of a lifetime—and how we keep or lose those we love throughout these mutations—is compassionate, profound and moving. Beyond being utterly captivated, I felt like I had grown wiser and more humane after reading this beautiful novel."
—Jean Kwok, New York Times bestselling author of Girl in Translation

"In With or Without You, Caroline Leavitt once again explores disaster's aftermath and its affect on the lives of ordinary people tethered by love and shared history.  What makes this novel so poignant, and also makes it feel so true, is that there is no going back.  There is only now, the newness of their altered realities and the courage to continue."
—Helen Schulman, bestselling author of This Beautiful Life and Come with Me

"This fresh, engaging, intimate tale of love and identity subverts the reader's expectations again and again. Caroline Leavitt refuses to take one clichéd turn. A complete original, an absolute delight."
—Janet Fitch, author of Chimes of a Lost Cathedral and White Oleander

"After all of their lives are irrevocably altered by a single tragic incident, Stella, Simon, and Libby—the major characters in Caroline Leavitt's compelling, deeply moving new novel—are forced to make complex choices between freedom and responsibility, love and loyalty. Leavitt depicts her characters without judgment, and by doing so compels readers to ask themselves what they might do in such difficult moments."
—Ron Rash, author of The Risen      
Algonquin Books, 9781616207793, 288pp.
Publication Date: August 4, 2020
About the Author
Caroline Leavitt is the award-winning author of twelve novels, including the New York Times bestsellers Pictures of You and Is This Tomorrow. Her essays and stories have been included in New York magazine, Psychology Today, More, Parenting, Redbook, and Salon. She's a book critic for People, the Boston Globe, and the San Francisco Chronicle, and she teaches writing online at Stanford and UCLA.
1. Caroline Leavitt's novel is really about how no one and nothing stays the same, and that these changes can happen in a heartbeat. Even if Stella had not fallen into coma, she would have changed. Even if Simon had not had to give up his gig, things would have changed. Since changes in relationships are almost inevitable, how do you think the dynamics between Stella and Simon would have altered even if she had not ended up in coma and emerged as a different person? Do you think the relationship would have endured? Why or why not?
2. Leavitt, who was once in a coma, did a great deal of research on personality change of people after coma. She learned that, like her, many coma survivors do not suffer brain damage or a regular personality change, but in some cases, brains really do rewire and people come out of coma with incredible new talents. Some survivors can speak fluent languages they never knew before; some can paint or are violinist virtuosos. Others, like Stella, come out of coma with not only an altered personality but also with a remarkable new talent and an ability to draw on heretofore unknown inner strength. How does knowing this science change your own views about the human brain and how much of it we don't really understand? How does this scientific knowledge affect what you think of as your own limitations?
3. The idea of home plays a big part in With or Without You. Simon hates his parents' Woodstock summer home because it was the scene of his humiliation and failure as a kid trying to be a musician, but to his dismay, Stella loves it. Do you think that place really matters, that a home can really have energy and personality, or do you think a house is just a house and what we make of it?
4. Leavitt has always said she likes novels that have "never-ending stories"—where the novel ends but you still have questions about what is going to happen to the characters. Those unfinished endings involve Stella, Simon, and Libby. What do you personally imagine might happen to each of them? What do you hope will happen?
5. There are two sections of the novel in which we hear from Stella while she is in coma. Obviously, Leavitt is drawing on personal experience and attempting to give the reader a sense of what that experience was like. Do you find these trips into the mind of a coma victim to be realistic? Do you feel that they give the novel—and Stella as a character—greater depth? Why or why not?
6. For Simon, success as a musician and recognition of his ability seems to be a major driving force, while Stella seems to have no interests beyond her work, the possibility of having a child, and stability in her relationship. Why do you think the relationship has lasted as long as it has? Is it a case of "opposites attract," or do you think it was doomed? Why?
7. For Leavitt, the past is often the prologue, containing wounds that have to be healed for people to become whole. Libby blames herself for someone's death; Simon struggles under his father's disapproval; Stella feels her parents loved each other more than they ever loved her. How do you think these "wounds" influence their actions, both with each other as well as in the directions their lives have taken?
8. A great deal of With or Without You is about what we are willing to do for the ones we love, and the ones who love us—and what the cost might be. Would there ever be a limit for you, when giving becomes too much?
9. Leavitt ends the book with these sentences: Any moment something amazing can happen. Some readers might find this strange, considering the catastrophes that occur in the book. What do you think Leavitt is really trying to say about life in the light of tragedy?
10. How do you feel about the decisions Stella made at the end of the story? Do you think she used the young writer, or was it a matter of their using each other? Likewise, did she use Simon? How does the answer you feel strongest about affect how you feel about Stella as a character?
or
Not Currently Available for Direct Purchase