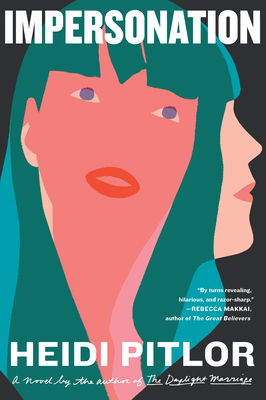 Impersonation
Hardcover

* Individual store prices may vary.
Other Editions of This Title:
Digital Audiobook (8/17/2020)
Paperback (7/13/2021)
Compact Disc (8/18/2020)
MP3 CD (8/18/2020)
September 2020 Indie Next List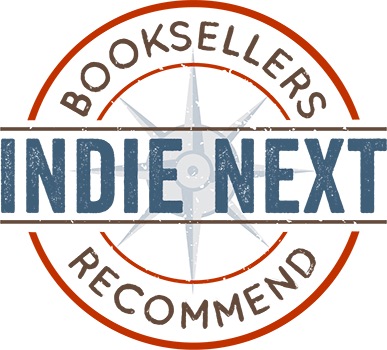 "In
Impersonation
, Heidi Pitlor tackles a lot of big issues and makes it look effortless with her intelligence and humor. Struggling ghostwriter and solo mom Allie is so many of us: trying to do everything right but inevitably feeling as though she's getting it all wrong, unable to get ahead. I couldn't stop turning the pages to see how far she'd go to survive."
— Hannah Harlow, Book Shop of Beverly Farms, Beverly Farms, MA
View the List
Description
"By turns revealing, hilarious, dishy, and razor-sharp, Impersonation lives in that rarest of sweet spots: the propulsive page-turner for people with high literary standards." —Rebecca Makkai, author of The Great Believers

Allie Lang is a professional ghostwriter and a perpetually broke single mother to a young boy. Years of navigating her own and America's cultural definitions of motherhood have left her a lapsed idealist. Lana Breban is a powerhouse lawyer, economist, and advocate for women's rights with designs on elected office. She also has a son. Lana and her staff have decided she needs help softening her public image and that a memoir about her life as a mother will help.

When Allie lands the job as Lana's ghostwriter, it seems as if things will finally go Allie's way. At last, she thinks, there will be enough money not just to pay her bills but to actually buy a house. After years of working as a ghostwriter for other celebrities, Allie believes she knows the drill: she has learned how to inhabit the lives of others and tell their stories better than they can.

But this time, everything becomes more complicated. Allie's childcare arrangements unravel; she falls behind on her rent; her subject, Lana, is better at critiquing than actually providing material; and Allie's boyfriend decides to go on a road trip toward self-discovery. But as a writer for hire, Allie has gotten too used to being accommodating. At what point will she speak up for all that she deserves?  

A satirical, incisive snapshot of how so many of us now live, Impersonation tells a timely, insightful, and bitingly funny story of ambition, motherhood, and class.
 
Praise For Impersonation…
"Looking for a book that fires up the synapses? Check out Heidi Pitlor's Impersonation . . . Pitlor's voice is witty and brisk, bringing warmth and light to questions of identity, independence and, yes, intellectual property. Who owns your stories? How much are they worth? Allie Lang's answers are complicated. Watching her reach them is like sitting down with a refreshingly honest friend who skips the part about how great her life is and dives right into the real stuff. We need more friends like this. Authors, too."
—The New York Times Book Review

"Both the story and its resourceful heroine are fresh, intelligent, and charming."
—Kirkus Reviews, starred review

"In a novel that's smart, surprising, thought provoking . . . Pitlor offers an astute study of what it means to be a woman today."
—Library Journal

"[A] searing and nuanced exploration of identity."
—Booklist

"Pitlor's smart and thought-provoking latest explores the complexities of feminism, privilege, and the telling of one's life story . . . The sharply observed depictions of how lives are shaped by financial status ring all too true. Fans of Meg Wolitzer's The Female Persuasion will want to take a look."    
—Publishers Weekly

"By turns revealing, hilarious, dishy, and razor-sharp, Impersonation lives in that rarest of sweet spots: the propulsive page-turner for people with high literary standards."
—Rebecca Makkai, author of The Great Believers

"Smart, funny, and provocative, Impersonation tunnels through our current politically-charged American landscape with humor and empathy. It's a story of parenting—and surviving—in a time when the messy realities of everyday life often clash with ideology. As page-turningly readable as it is relatable. I'll be recommending to my book group."
—Jessica Shattuck, author of The Women in the Castle
 
"Heidi Pitlor has written a wonderfully rare thing: a comedy of manners set in the 21st century that brilliantly grapples with some of the more thorny issues of class, privilege, and parenting of our day. Smart, funny, and generous in spirit, Impersonation is an engaging meditation on who controls the narrative and why it matters. A terrific read that will have you hooked from page one."
—Kate Walbert, author of A Short History of Women

"Impersonation is the book we need now: an unflinching look at our current moment, and at questions few of us dare to ask. If our personas do good in the world, does it matter what we did to create them? How much hypocrisy are liberals willing to tolerate? Can women raise good men? Provocative, heartfelt, and often hilarious, this is a novel I'll be thinking about for a long time to come."
—Anna Solomon, author of The Book of V
 
"With refreshing humor and an endearing charm all her own, Heidi Pitlor channels the narrative slyness of Rachel Cusk and the political acumen of Rebecca Solnit to deliver this zeitgeisty novel about the struggles of anonymity, accountability, modern-day mothering, and making ends meet in the gig economy. As both loss and possibility swirl around our lost but scrappy heroine, you can't help but root for her to claim her own voice and personhood. A smart behind-the-scenes tour of the murky world of publishing, politics, and the good people who get caught in the cross-fire."
—Christopher Castellani, author of Leading Men
 
"For our heroine Allison, this is her story of survival and endurance in these maddening times. She goes to extraordinary measures for her son and her work, yet the path is not always clear, and far from easy. A gifted storyteller, Pitlor is also not afraid to ask the tough questions. What does it mean to raise good boys? Good people? What does it mean to be a woman, a feminist, a believer in others and, above all, in yourself?"
—Weike Wang, author of Chemistry
Algonquin Books, 9781616207915, 336pp.
Publication Date: August 18, 2020
About the Author
Heidi Pitlor is the author of the novels The Birthdays and The Daylight Marriage. She has been the series editor of The Best American Short Stories since 2007 and the editorial director of Plympton, a literary studio. Her writing has been published in the New York Times, the Boston Globe, the Huffington Post, Ploughshares, and the anthologies It Occurs to Me That I Am America: New Stories and Art and Labor Day: True Birth Stories by Today's Best Women Writers. She lives outside Boston.
1. How does Allie's one-night stand with her agent, Colin, affect their future working relationship?
2. How much do you think a ghostwriter should augment or even invent for her client? Where is the line for you?
3. Did Allie reveal too much about her client, Lana, over dinner with her parents? Why or why not?
4. How present are traditional ideals of masculinity and femininity in our country? In what ways do they affect the characters' lives in Impersonation? In what ways do they affect your life?
5. Throughout the novel, Allie struggles to read one book—To the Lighthouse by Virginia Woolf. How does Allie's life provide a counterpoint to the lives of Woolf's characters?
6. Allie has an arrangement with her elderly neighbor, Bertie, for childcare. How do you feel about this arrangement? Is it wrong for Allie to ask Bertie to look after her son? Why or why not?
7. Is Allie's neighbor Jessica a sympathetic or unsympathetic character? Why?
8. When Allie interviews Dr. Boyle for Lana's book, he says, "I try to caution parents against assigning too much import to a baby's gender in terms of it predetermining behavior." How much does a baby's gender determine, do you think? What is biological and what is learned?
9. Lana ultimately relies on Allie for much more than shaping her prose. On the other hand, Lana's ultimate goal was to help women of all stripes. How did you end up feeling about Lana and her choices?
10. In the scene featuring Rescue Sitter, a mother is shamed for not being loud enough with her children. In what ways are mothers shamed by our culture? What about fathers and other parents?
11. Is Kurt a good partner for Allie? Why or why not?
12. Who or what is the real antagonist in this book? Why?
13. What kinds of incorrect assumptions have people made about you? Why do you think this happens? What are the consequences of this?
14. Have you ever made incorrect assumptions about other people? What were the consequences then?
15. How does your public self differ from your true self?
16. How important is authenticity in politicians? What is the most important factor for you when voting for someone?