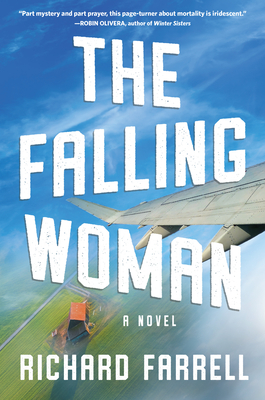 The Falling Woman (Hardcover)
A Novel
Algonquin Books, 9781616208578, 336pp.
Publication Date: June 23, 2020
* Individual store prices may vary.
Description
A SUSPENSEFUL AND PROFOUND STORY ABOUT THE SOLE SURVIVOR OF A PLANE CRASH AND THE YOUNG AGENT ASSIGNED TO FIND HER 

Tragedy strikes during a cross-country flight when sudden turbulence causes the jet to come apart in midair. The odds of anyone surviving are nearly impossible. Charlie Radford, a young National Transportation Safety Board investigator, is part of the team sent to determine what caused the crash. When he hears a rumor of a survivor, he assumes it is a hoax. As word of this "miracle" reaches the media and Congress, Radford is forced to track down "the falling woman," said to have been found in a barn still strapped to her seat.

The woman at the center of the mystery, Erin Geraghty, was facing a losing battle with cancer when she embarked on her flight. With diminishing hope of a full recovery, she had considered herself essentially dead to her loved ones. Now, after the plane crash, she is intent on remaining dead to the world and to her family, to live out her final days in peace. And then Agent Radford arrives at her doorstep. Can he convince her to come forward, and does he have any right to?

A riveting novel that ultimately asks compelling questions about the value of privacy, our responsibilities to our loved ones, and our right to control our own narrative, Richard Farrell's debut is perfectly framed to become a favorite for book clubs and for all readers who relish a profound, page-turning story with heart.  
About the Author
Richard Farrell is a graduate of the U.S. Naval Academy and a former pilot who holds an MFA in writing from Vermont College of Fine Arts. His work has appeared in Hunger Mountain, upstreet, New Plains Review, Potomac Review, Descant, and elsewhere. Originally from Worcester, Massachusetts, he teaches creative writing at Grossmont College in San Diego, where he lives with his wife and two children. This is his first novel.
Praise For The Falling Woman: A Novel…
"Former pilot Farrell's skillfully written story of hope, love, and regret contemplated amid a fast-paced, high-pressure major airline accident investigation will appeal to readers who enjoyed Michael Crichton's
Airframe
, Gregg Hurwitz's
The Survivor
, and Noah Hawley's
Before the Fall
."
—
Library Journal
"[A] solid debut . . . Farrell's thoughtful novel calls to mind the heights of Rafael Yglesias's Fearless."
—Publishers Weekly
"An intriguing story given weight by its examination of what it means to be faithful."
—
Booklist
"
The Falling Woman
is a thoughtful, intelligent, and meticulously crafted novel about expectations and choices, tragedies and miracles, limitations and freedom. I enjoyed every page; it is a gem."
—
T. Greenwood, author of Keeping Lucy
"A stunning debut,
The Falling Woman
kept me riveted to the very last page. Without sacrificing an ounce of suspense, Farrell manages to ask the big questions about life and love. This is a novel that is perfect for book clubs."  
—
Thomas Greene, author of The Perfect Liar and The Housemaster's Wife
"
The Falling Woman
 is the kind of novel I like best: a page-turning glimpse into a world I have always been curious about (an investigation of a commercial airline accident) combined with great writing, great plotting and a thoughtful plumbing of what makes us human—with a twist at the end. Highly recommended."
—
B.A. Shapiro, author of The Collector's Apprentice
"What would you do if you were confronted with a miracle? That is the essential question posed in
The Falling Woman
, a surprisingly spiritual novel about a plane crash. Two people entwined in the investigation, both in desperate need of hope—and a true home—grapple with an answer, which may prove as perilous as the catastrophe. Part mystery and part prayer, this page turner about mortality is iridescent. I loved it." 
—
Robin Oliveira, author of Winter Sisters