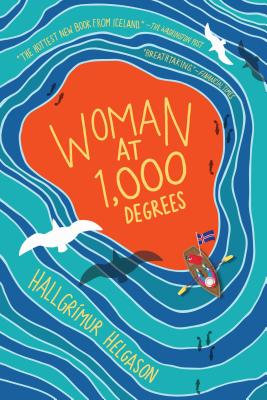 Woman at 1,000 Degrees
A Novel
Paperback

* Individual store prices may vary.
Other Editions of This Title:
Digital Audiobook (1/8/2018)
Hardcover (1/9/2018)
Library Binding, Large Print (4/4/2018)
Description
"THE HOTTEST NEW BOOK FROM ICELAND IS WOMAN AT 1,000 DEGREES . . . What a story it is, one worth reading to further understand the complexity of World War II—and to enjoy the quick wit of a woman you won't forget." —Bethanne Patrick, The Washington Post

"I live here alone in a garage, together with a laptop computer and an old hand grenade. It's pretty cozy."

Herra Björnsson is at the beginning of the end of her life. Oh, she has two weeks left, maybe three—she has booked her cremation appointment, at a crispy 1,000 degrees, so it won't be long. But until then she has her cigarettes, a World War II–era weapon, some Facebook friends, and her memories to sustain her.

And what a life this remarkable eighty-year-old narrator has led. In the internationally bestselling and award-winning Woman at 1,000 Degrees, which has been published in fourteen languages, noted Icelandic novelist Hallgrímur Helgason has created a true literary original. From Herra's childhood in the remote islands of Iceland, where she was born the granddaughter of Iceland's first president, to teen years spent living by her wits alone in war-torn Europe while her father fought on the side of the Nazis, to love affairs on several continents, Herra Björnsson moved Zelig-like through the major events and locales of the twentieth century. She wed and lost husbands, had children, fled a war, kissed a Beatle, weathered the Icelandic financial crash, and mastered the Internet. She has experienced luck and betrayal and upheaval and pain, and—with a bawdy, uncompromising spirit—she has survived it all.

Now, as she awaits death in a garage in Reykjavík, she shows us a woman unbowed by the forces of history. Each part of Herra's story is a poignant piece of a puzzle that comes together in the final pages of this remarkable, unpredictable, and enthralling novel.
Praise For Woman at 1,000 Degrees: A Novel…
"Published in 13 languages, this novel about one feisty Icelandic woman's proximity to history's big moments is a thoroughly entertaining ride."
—People

"Incredibly funny, incredibly insightful and incredibly moving."
—Fiona Mozley, author of Elmet

"[Herra's] story, based on true events, is no predictable chronicle of wartime woe . . . the narrator recounts her misshapen life with engaging vividness."
—The New Yorker

"[Herra's] perspective might be just what we need in these uncertain times: She survives and shares her story on her terms. And what a story it is, one worth reading to further understand the complexity of World War II—and to enjoy the quick wit of a woman you won't forget."
—Washington Post

"Compelling . . .  Uplifting . . . Required reading for those who want sour along with the sweet in life."
—New York Journal of Books

"This rollicking novel . . . is as delightful as it is dirty."
—Minneapolis Star Tribune

"One of the most original novels of the year."—Irish Independent

"This is a profoundly, triumphantly feminist book . . . There's nothing like it in our language."
—Toronto Star

"Icelandic novelist Helgason shares with John Irving a knack for masterful plotting and clever, sarcastic humor . . . anyone willing to . . . revel in its flights of language will find much to enjoy."
—Booklist

"Helgason's sad and funny novel begins in 2009, as 80-year-old Herra Björnsson lies dying in a Reykjavík garage, still in possession of a live hand grenade from World War II . . . In her unsentimental, unsparing narrative, she offers insights into Icelandic culture and character, including a riff on reticence and a brief summary of Iceland's financial meltdown. Like the Icelandic landscape, she can be both appealing and treacherous."
—Publishers Weekly, starred review

"Herra . . . is exceedingly quick-witted and has a wickedly colorful way with words . . .  Brilliantly written with flashing insights."
—Kirkus Reviews

"Long after I read it, the story and its prickly protagonist has stayed with me."
—Esmeralda Santiago, author of When I Was Puerto Rican  (via Vulture)
 
"Helgason's novel is superbly written, with characters and events that grab your attention and make it hard to put down."
—Tulsa Book Review
 
"Unpredictable and endearing."
—Jacksonville Journal-Courier
 
"Remarkable."
—Arkansas Democrat-Gazette

"Woman at 1,000 Degrees is extraordinarily absorbing and enjoyable. The story revolves around a woman who lived ahead of her time. Many young women would idealize Herra Björnsson. At the same time, it gives an insight into life during World War II."
—The Washington Book Review

"A deathbed recollection aglow with vitality, Woman at 1,000 Degrees leads us though the many tumultuous lives of Herra Björnsson, barrelling through historic darkness at a seemingly impossible pitch, one that offers moments of humor amid the sharpest of sorrows and alienation. This novel is a shock, a laugh, an evocation of grief, and a tribute to survival and imagination; Helgason's vivid talents give
Algonquin Books, 9781616208660, 416pp.
Publication Date: January 8, 2019
About the Author
Hallgrímur Helgason was born in Reykjavík, Iceland, in 1959. He started out as an artist and debuted as a novelist in 1990, gaining international attention with his third novel, 101 Reykjavík, which was translated into fourteen languages and made into a film. He has thrice been nominated for the Nordic Council Literature Prize, including for his novel Woman at 1,000 Degrees. Also a columnist and a father of three, he now divides his time between Reykjavík and Hrísey Island. His website is HallgrimurHelgason.com.