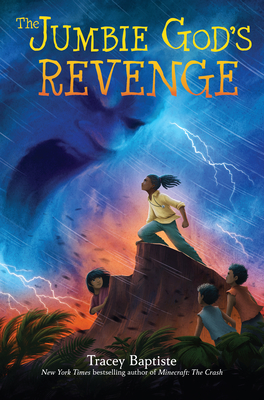 The Jumbie God's Revenge
Hardcover

* Individual store prices may vary.
Other Editions of This Title:
Digital Audiobook (9/2/2019)
Paperback (3/9/2021)
Description
Thunder rumbles, lightning strikes, danger appears . . .

When an out-of-season hurricane sweeps through Corinne's seaside village, Corinne knows it's not an ordinary storm. At first Corinne believes Mama D'Leau, the powerful and cruel jumbie who rules the ocean, has caused the hurricane. Then an even more ferocious storm wrecks the island, sending villagers fleeing their houses for shelter in the mountains, and Corinne discovers the storms weren't caused by a jumbie, but by the angry god Huracan.

Now Corinne, with the help of her friends and even some of her enemies, must race against time to find out what has angered Huracan and try to fix it before her island home is destroyed forever.

The Jumbie God's Revenge blends Caribbean and West African tales to present powerful themes of community and heroism in a heart-pounding action adventure.
 
Praise For The Jumbie God's Revenge…
"[A] richly detailed adventure, full of magic, wonder, and danger, that will be remembered long after the last page is read."
—The BN Kids Blog

"With this strong return to the Jumbies series, Baptiste engages all the senses, from the taste of sweet oranges to the scent of salty air . . . [Corinne's] determination, compassion, and bravery will inspire readers to face down any challenges crossing their paths. Baptiste carefully represents Caribbean diversity . . . A tremendous return."
—Kirkus Reviews, starred review

"Baptiste continues to successfully blend fantastical and realistic elements, punctuating the plot with true and terrifying details, such as the speed and level of a hurricane's physical destruction, without impeding the Caribbean folktale motifs that underscore the series. Packed with action, the narrative sacrifices not an ounce of emotional authenticity; readers will be as enthralled by the hearten­ing tenacity and perseverance of friendship and community as by the jumbies and humans confronting a dangerous deity. Considerations of the struggles of refugees and the importance of standing up for the vulnerable are especially timely in this propulsive and engaging story."
—The Horn Book Magazine

"The Jumbie God's Revenge is an even more amazing installment in this middle-grade fantasy/horror series . . . Filled with action/adventure and a magical world, this book is a quick and engaging read . . . Unique, engrossing, and fully developed, this action/adventure/fantasy/horror series is perfect for the middle grade audience . . .  Highly recommend for middle-grade readers who enjoy brave heroines, facing the odds, and magic."
—YA Books Central

"As in the previous books, Baptiste tells an action-packed adventure story that resonates emotionally and intellectually. She weaves in threads about family and friendship and forgiveness, responsibility and love and loss and bravery; she touches on scapegoating and the plight of refugees and the importance of standing up for others, whether it be physically or verbally. And, as in the previous books, she does all that with warmth and humor and nuance."
—Bookshelves of Doom

 
Algonquin Young Readers, 9781616208912, 272pp.
Publication Date: September 3, 2019
About the Author
Tracey Baptiste lived in Trinidad until she was fifteen; she grew up on jumbie stories and fairy tales. She is a New York Times bestselling author of Minecraft: The Crash, and a former teacher who works as a writer and editor. Visit her online at traceybaptiste.com and on Twitter: @TraceyBaptiste.