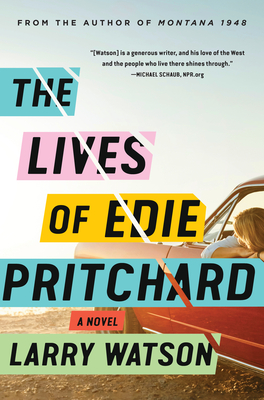 The Lives of Edie Pritchard
Hardcover

* Individual store prices may vary.
Other Editions of This Title:
Digital Audiobook (7/6/2020)
Digital Audiobook (7/20/2020)
Paperback (6/8/2021)
MP3 CD (7/7/2020)
Compact Disc (7/7/2020)
Description
By the Bestselling Author of Let Him Go

A Most Anticipated Book of the Summer: The Millions * Library Journal * Parade

"Characters so real they could walk off the page, virtuoso writing and up-all-night drama."— People

From acclaimed novelist Larry Watson, a multigenerational story of the West told through the history of one woman trying to navigate life on her own terms.
 
Edie—smart, self‑assured, beautiful—always worked hard. She worked as a teller at a bank, she worked to save her first marriage, and later, she worked to raise her daughter even as her second marriage came apart. Really, Edie just wanted a good life, but everywhere she turned, her looks defined her. Two brothers fought over her. Her second husband became unreasonably possessive and jealous. Her daughter resented her. And now, as a grandmother, Edie finds herself harassed by a younger man. It's been a lifetime of proving that she is allowed to exist in her own sphere. The Lives of Edie Pritchard tells the story of one woman just trying to be herself, even as multiple men attempt to categorize and own her.

Triumphant, engaging, and perceptive, Watson's novel examines a woman both aware of her physical power and constrained by it, and how perceptions of someone in a small town can shape her life through the decades.
Praise For The Lives of Edie Pritchard…
A Kirkus Reviews Best Fiction Books of 2020  Best 2020 Fiction To Get Your Book Club Talking
A Booklist Editor's Choice: Adult Books, 2020

"Set in Montana, and evoking Annie Proulx, The Lives of Edie Pritchard is a testament by one of our greatest 'regional' novelists to the power of stories."
—The Millions

"Larry Watson is a riveting storyteller . . . this is a fast and compelling read, sparse and dusty as the open plain. Watson's journey is a sensory one, taking us down rippling highways and across weedy fields into basement rec rooms and out into shadowy sunsets. Though some scenes are gritty, the novel's dialogue and imagery awaken our senses and prove once again that when depicting small-town life in the West, Larry Watson is crushing it."
—Minneapolis Star Tribune

"Like Watson's earlier novel Orchard, The Lives of Edie Pritchard is a story about a woman whom men try to possess, but rarely make an effort to understand or even listen to . . . Watson's unfussy style makes room for nuggets of bitter humor, like a divorced and remarried woman telling a newcomer, "Mister, everyone in this room is an expert on what a marriage isn't!'"
—Milwaukee Journal Sentinel

"Set mostly in eastern Montana, Watson's vibrant character study reads like a trio of scintillating novellas, each set 20 years apart . . .  Like in the best works of Richard Ford and Elizabeth Strout, Watson shows off a keen eye for regional details, a pitch-perfect ear for dialogue, and an affinity for sharp characterization. This triptych is richly rewarding."
—Publishers Weekly

"Watson remains incapable of creating characters who aren't fully formed individuals, as courageous as they are vulnerable, and here he again displays his rare ability to craft strong women and to describe their everyday lives with rare power."
—Booklist, starred review

"Watson is insightful in his depiction of Edie and those who seek to control her, and his descriptions of small-town Montana life, where guns are frequently a menacing presence, reflect how the potential for violence is ever present beneath the surface of things. The novel crackles with tension, especially the second and third acts; Watson is a born storyteller, and it shows on every understated page. But Edie's story also rings with a hardscrabble poetry . . . A riveting and tense examination of identity, violence, and female anger."
—Kirkus Reviews, starred review
 
Algonquin Books, 9781616209025, 368pp.
Publication Date: July 21, 2020
About the Author
Raised in Bismarck, North Dakota, Larry Watson is the author of ten critically acclaimed books, including the bestselling Montana 1948. His fiction has been published internationally and has received numerous prizes and awards. His essays and book reviews have appeared in the Los Angeles Times, the Washington Post, the Chicago Sun-Times, the Milwaukee Journal Sentinel, and other periodicals. He and his wife live in Kenosha, Wisconsin. A film adaptation of Watson's novel Let Him Go is currently in production with Kevin Costner and Diane Lane and due to release in 2020.
1. In The Art of Fiction, John Gardner wrote, "In nearly all . . . fiction, the basic—all but inescapable—plot form is: A central character wants something, goes after it despite opposition (perhaps including his [sic] own doubts), and so arrives at a win, lose, or draw." What does Edie want, and what stands in the way of her getting what she wants? Does she win, lose, or come to a draw?
2. There are actual twins in The Lives of Edie Pritchard, but throughout the narrative there are elements—characters, episodes, incidents—that parallel others. What are some of those examples of "twinning" in the novel? What are the effects of those similarities?
3. Important conversations and significant moments in the novel often occur in automobiles. What do you make of that?
4. How does Edie change over the years? How does she remain unchanged?
5. Roy Linderman figures importantly in all three parts of the novel. How does he change over the years? How does he remain unchanged?
6. Mother and daughter relationships loom large in the novel. How do they add to our understanding of Edie and her world?
7. Gladstone, Montana, is the setting for important action in all three sections. It's Edie's hometown, and though she doesn't seem nostalgic or overly fond of it, she keeps going back. Why? What keeps bringing her back and what finally keeps her there?
8. So much of the novel is dialogue and action. What are some effects of the story being told through those narrative modes?
9. Have you ever been treated like Edie? Have you seen others treated like her?
1o. After Edie leaves Gladstone in 1968, Roy Linderman is largely absent from her life. Yet he's present at crucial moments in later years. How would you characterize the relationship between them? Does it change over time?
11. On more than one occasion Roy Linderman asks Edie to go away with him. Why is "going away" so important to his proposal?
12. How do Edie's relationships with women differ from her relationships with men?
13. There are many minor characters in the novel—Mildred Linderman, Gary Dunn, Rita Real Bird, George Real Bird, Lauren Keller, to name just a few. What importance do these characters have to the overall narrative?
14. Did you return to your hometown and if not, why not?
15. Did you hope that Edie and Roy would eventually end up together? Why didn't it happen?
or
Not Currently Available for Direct Purchase