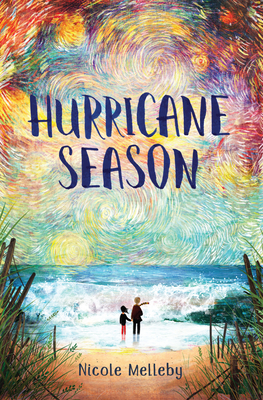 Hurricane Season
Hardcover

* Individual store prices may vary.
Other Editions of This Title:
Digital Audiobook (5/6/2019)
Paperback (3/17/2020)
Description
"Fig Arnold is an original and irresistible heroine in a story full of hope, art, and love." —R. J. Palacio, author of Wonder

"A thoughtful portrayal of mental illness with queer content that avoids coming-out clichés." —Kirkus Reviews

For Fig's dad, hurricane season brings the music.
For Fig, hurricane season brings the possibility of disaster.
 
Fig, a sixth grader, loves her dad and the home they share in a beachside town. She does not love the long months of hurricane season. Her father, a once-renowned piano player, sometimes goes looking for the music in the middle of a storm. Hurricane months bring unpredictable good and bad days. More than anything, Fig wants to see the world through her father's eyes, so she takes an art class to experience life as an artist does. Then Fig's dad shows up at school, confused and looking for her. Not only does the class not bring Fig closer to understanding him, it brings social services to their door.
 
As the walls start to fall around her, Fig is sure it's up to her alone to solve her father's problems and protect her family's privacy. But with the help of her best friend, a cute girl at the library, and a surprisingly kind new neighbor, Fig learns she isn't as alone as she once thought . . . and begins to compose her own definition of family.
 
Nicole Melleby's Hurricane Season is a radiant and tender novel about taking risks and facing danger, about friendship and art, and about growing up and coming out. And more than anything else, it is a story about love—both its limits and its incredible healing power.
Praise For Hurricane Season…
A 2019 Skipping Stones Book Award Winner

"Melleby's debut offers a tender, earnest portrait of a daughter searching for constancy while negotiating her father's sickness and the social challenges of tween girlhood, including her first crush on a girl."
—Publishers Weekly, starred review

"Father and daughter find their way back to each other in this moving novel, and readers will root for Fig every step of the way."
—Bookish

"Melleby doesn't shy away from how terrifying it is to watch someone in a dangerously manic state, but the narrative never tips into melodrama. A thoughtful portrayal of mental illness with queer content that avoids coming-out clichés."
—Kirkus Reviews

"Melleby deftly tackles weighty topics—mental illness, child protective services, single parenting, sexuality—while effortlessly weaving in elements of the life and works of Vincent van Gogh, creating a thoughtful, age-appropriate and impressive novel."
—Shelf Awareness, starred review
 
"Fig's story will engage middle grade readers who enjoy thoughtful novels that address complex topics. It may even inspire them to seek out the works of van Gogh."
—School Library Journal, starred review

"Debut author Nicole Melleby's novel is beautifully written, realistic, and thought-provoking."
—Literacy Daily  

"Fig Arnold is an original and irresistible heroine in a story full of hope, art, and love."
—R. J. Palacio, author of Wonder

"Melleby's debut examines the complexities of having a parent with a mental illness and the responsibilities that kids sometimes must shoulder. Themes of trust and LGBTQ romance are incorporated into this weighty but hopeful story."
—Booklist

"Melleby's debut novel includes two coming-out stories—Fig has a crush on an older girl—but integrates these elements naturally into its main story of the father-daughter relationship, as each struggles with how much to share with the other and when. Details involving art and science (STEM-oriented Fig tries to relate to her musician father and draws connections between his condition and Vincent van Gogh's) lend specificity and keep the plotlines centering on LGBTQ+ identities and bipolar disorder from feeling overly formulaic."
—The Horn Book
 
"This debut novel—about taking risks and facing danger, about love and art, and about growing up and coming out—will make its way straight into your heart . . . stunning . . . I found it hard to put down."
—Confessions of a YA Reader

"Hurricane Season is a powerful middle grade novel that deals with some really important issues . . . Fig is beautifully crafted and real, and readers will whole-heartedly fall in love with her."
—YA Books Central

"[Melleby] handles several complex issues—bisexuality, single parenthood, LGBTQ issues, and mental illness—age-appropriately and with nuance. The novel includes interesting information about Vincent Van Gogh and shows young readers the transformational power of art. Melleby's beautifully written and moving debut depicts a well-crafted character in search of safety and understanding. An important and expertly layered novel."
—New York Journal of Books

"A warm, vivid, and resonant story of the child that resides in every guardian, and the guardian in every child. An important debut."
—Eliot Schrefer, New York Times Bestselling Author of Endangered
 
"Hurricane Season is unforgettable. It will reach into your heart and stay there long after."
—Donna Freitas, author of The Healer
Algonquin Young Readers, 9781616209063, 288pp.
Publication Date: May 7, 2019
About the Author
Nicole Melleby, a New Jersey native, is the author of highly praised middle-grade books, including the Lambda Literary finalist Hurricane Season. She lives with her wife and their cat, whose need for attention oddly aligns with Nicole's writing schedule.
1. Each chapter of the novel is named after a different Vincent van Gogh painting. What connections do you see between paired paintings and chapters?
2. "[Fig] wanted to let them think her dad was weird. It was much better than thinking he was crazy." (p. 20) What is the difference between weird and crazy? How do Fig's neighbors, teachers, and classmates perceive her dad? What don't they see in him that Fig wishes they knew?
3. Fig studies the painter Vincent van Gogh because she thinks understanding him will finally help her understand her father, who is a different kind of artist – a musician and a composer. What other similarities do you see between van Gogh and Fig's dad? What differences?
4. New neighbor, Mark, befriends Fig's dad and begins spending more time with them. What does Fig think of mark at first? How does his presence change Fig's family? How does her opinion about Mark change throughout the novel?
5. Fig believes she can care for her dad on her own without anyone else's help. Why does Fig feel like she has to manage their situation on her own? What is her reaction when other characters try to help her? Why is it sometimes difficult to ask for and accept help from others?
6. How does Fig's dad react when she tells him about her first crush, on a girl at the local library? How does Fig react when her dad tells her about his own new romance?
7. Fig and her dad have a very close relationship. Do they communicate well with each other? How does Fig's dad explain to her what he's going through? Does Fig feel like his explanations are enough?
8. Fig feels frustrated and hurt when the adults in her life don't talk to her about the important things going on in their lives, such as her dad's new relationship and information about her dad's diagnosis. Why does Fig feel so betrayed? Why does she lash out? We forget she's eleven because she has to act much older. Fig handles a lot for her age, but she is still eleven – how do you react when she lashes out against her dad?
9. Art is a recurring theme and appears in different forms throughout the novel – from Vincent van Gogh's paintings to Fig's dad's music to Fig's art project. What do you think each of these works of art says about its creator?
10. Part One of the book begins with a quote from one of Vincent van Gogh's letters to his brother Theo: "The beginning is perhaps more difficult than anything else, but keep heart, it will turn out all right." How do you feel this quote reflects the novel? What do you think comes next for Fig and her family?
or
Not Currently Available for Direct Purchase