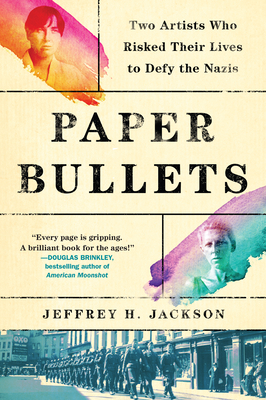 Paper Bullets
Two Artists Who Risked Their Lives to Defy the Nazis
Hardcover

* Individual store prices may vary.
Other Editions of This Title:
MP3 CD (11/10/2020)
Compact Disc (11/10/2020)
Paperback (11/2/2021)
Description
"A Nazi resistance story like none you've ever heard or read." —Hampton Sides, author of Ghost Soldiers and On Desperate Ground

"Every page is gripping, and the amount of new research is nothing short of mind-boggling. A brilliant book for the ages!" —Douglas Brinkley, author of American Moonshot 

Longlisted for the Carnegie Medal for Excellence in Nonfiction

Paper Bullets is the first book to tell the history of an audacious anti-Nazi campaign undertaken by an unlikely pair: two French women, Lucy Schwob and Suzanne Malherbe, who drew on their skills as Parisian avant-garde artists to write and distribute "paper bullets"—wicked insults against Hitler, calls to rebel, and subversive fictional dialogues designed to demoralize Nazi troops occupying their adopted home on the British Channel Island of Jersey. Devising their own PSYOPS campaign, they slipped their notes into soldier's pockets or tucked them inside newsstand magazines.

Hunted by the secret field police, Lucy and Suzanne were finally betrayed in 1944, when the Germans imprisoned them, and tried them in a court martial, sentencing them to death for their actions. Ultimately they survived, but even in jail, they continued to fight the Nazis by reaching out to other prisoners and spreading a message of hope.

Better remembered today by their artist names, Claude Cahun and Marcel Moore, the couple's actions were even more courageous because of who they were: lesbian partners known for cross-dressing and creating the kind of gender-bending work that the Nazis would come to call "degenerate art." In addition, Lucy was half Jewish, and they had communist affiliations in Paris, where they attended political rallies with Surrealists and socialized with artists like Gertrude Stein.

Paper Bullets is a compelling World War II story that has not been told before, about the galvanizing power of art, and of resistance.
Praise For Paper Bullets: Two Artists Who Risked Their Lives to Defy the Nazis…
A Booklist Editor's Choice: Adult Books, 2020

"Every page is gripping, and the amount of new research is nothing short of mindboggling. A brilliant book for the ages!"                           
—Douglas Brinkley, Rice University Professor and bestselling author of American Moonshot: John F. Kennedy and the Great Space Race

"This is a Nazi resistance story like none you've ever heard or read, a story with two unlikely heroines who risked their lives in their subversive—and often wildly creative—struggle to face down evil. Paper Bullets prompts us to explore the boundaries of art, love, gender, and politics—and to question the true meaning of courage."
—Hampton Sides, bestselling author of In the Kingdom of Ice and On Desperate Ground

"Cataloguing everything from their small but fearless acts of resistance to their harrowing stints in prison cells, author Jeffrey H. Jackson had us utterly riveted. His well-researched history goes deep into the characters of these two unlikely heroes, whose rebellion was fueled by love and compassion. Malherbe and Schwob's inspiring story is barely known, but Paper Bullets will make you want to shout it from the rooftops."
—Apple Books (Best Book of November)

"A captivating tale of queer love and resistance during World War II . . . Jackson's research is impeccable and his writing is lively . . . Paper Bullets is a gem of a historical text about two women who stood up to power defiantly, living on their own terms."
—Foreword Reviews (starred review)

"A remarkable story of creative courage . . . exceptional and inspiring."
—Booklist(starred review)

"The book, at once tense and tender, is a scrupulously researched account of [Cahun and Moore's] lives. It is the first biography to comprehensively weave together their lifelong romance, radical art and fearless political resistance during World War II . . . Yet, even with its piercing wartime depictions of rationing and hunger, intimidation and depravity, and nail-biting acts of resistance, Paper Bullets is at its core a story of devotion."
—The Washington Post

"Jeffrey Jackson brings to light Lucy and Suzanne's courage and savvy in this book that reads like a classic WWII spy thriller, but with a modern focus on how these two heroes took society's default tendency to underestimate women's power and agency, especially during wartime, and used it to undermine the Nazis. We marvel at how they hide in plain sight as they stealthily fight the very forces trying to exterminate who they really are. And not only do they outsmart their German foes, but they survive to tell about it."
—Emily Yellin, author of Our Mothers' War

 "A unique WWII history and absorbing story of two bold, unconventional women."
—Kirkus Reviews (starred review)

"Paper Bullets has it all — it's a tale of romance in spite of the odds, a slice of art history, and an inspirational World War II story. It is, simply put, nearly impossible to put down."
—Memphis Flyer

"Impeccably researched and meticulously sourced, Paper Bullets is a welcome and timely portrait of courage and creativity."
 —Bookpage

"Readers will delight in this unique and well-crafted story of wartime resistance."
 — Publishers Weekly

"This is a satisfying contribution to World War II scholarship, highlighting a sophisticated, cultured, and still grassroots resistance effort."
—Library Journal

"Paper Bullets reads like a well-paced, nail-biting thriller. Jeffrey H Jackson leads us through a novel-like tale of intrigue, scandal and plucky war-time resistance . . . The power of art and the impact of political artists makes for a gripping rollercoaster ride that we thoroughly enjoyed."
—Daily Art Magazine  

"A gripping story. The lesbian couple Lucy Schwob and Suzanne Malherbe deployed their intellectual capacities and peacetime experience in dissembling their identities to challenge the German occupiers with artistic 'paper bullets.' The contest between the baffled Nazis and the crafty traitors animates this historical thriller."               
—Bonnie G. Smith, author of Women In World History

"A regular occurrence in queer history is erasure. This book allows the past to speak for itself. Jackson elevates and highlights these Nazi-fighters and avant-garde artists—better known today as Claude Cahun and Marcel Moore—and reminds us to use spiritual arms instead of firearms in the face of growing division and hate."
—Tommy Kha, artist and winner of the 2019 Creative Review Photography Annual

"Riveting. Breaks new ground in our understanding of collaboration and resistance in Nazi-occupied Europe and the impact of women in wartime. A must-read for anyone interested in World War II, resistance, women's history, or the defense of democratic ideals during times of tyranny and oppression."
—Michael D. Bess, Vanderbilt University Professor and author of Choices Under Fire
Algonquin Books, 9781616209162, 336pp.
Publication Date: November 10, 2020
About the Author
Jeffrey H. Jackson is Professor of History at Rhodes College in Memphis, Tennessee. An expert on European history and culture, he is the author of Paris Under Water: How the City of Light Survived the Great Flood of 1910 and Making Jazz French: Music and Modern Life in Interwar Paris. He has appeared in documentary films and helped develop "Harlem in Montmartre: A Paris Jazz Story" for PBS's  Great Performances .
1. Although Lucy and Suzanne found community among other same-sex couples in Paris, they often saw themselves as outsiders from mainstream society because of their sexual orientation. How did their sexuality inform their resistance?
2. How is Paper Bullets a love story? How important was the relationship between Lucy and Suzanne in their decision to resist the German occupation?
3. How did the combination of Lucy's Jewish identity and her queer identity affect how she thought about the Nazis? How did these parts of her identity help give her the ability and willingness to act?
4. What does Lucy and Suzanne's story suggest about why and how people chose to resist German occupation? In the same situation, we all like to think we would do the same, but in reality, we would most likely not. What made Lucy and Suzanne different? What gave them the power to put themselves at great personal risk, especially given their privileged backgrounds?
5. As the war went on, Lucy and Suzanne escalated their actions, even as the German occupation dug in. Why do you think they became bolder in their resistance?
6. What does Paper Bullets suggest about how art and life inform one another? How important was Lucy and Suzanne's work as artists to their decision to resist?
7. Lucy and Suzanne crossed gender boundaries to become the Soldier with No Name. How important was the idea of transgression to their story?
8. Unlike so many World War II stories, this one involves German soldiers who were relatively kind, at least to Lucy and Suzanne, if not to those whom they saw as deserters from the army. What allowed Lucy and Suzanne to empathize with some of the occupiers?
9. Lucy and Suzanne's notes infiltrated the "private transcript" of the German occupation forces. What "public" and "private" transcripts do you experience in your life? How might you react if someone got "inside your head" in the way that Lucy and Suzanne did?
10. What does Paper Bullets suggest about the importance of who controls information and how it can shape our perceptions of reality? Does Lucy's "indirect effect" help explain the ways in which information flow today can work its way into our consciousness?
11. Why do you think Suzanne has largely been forgotten in the story of their lives together?
12. Why would residents of Jersey want to repress the experience of resistance after the war?
13. How can Lucy and Suzanne inspire people today to stand up for their beliefs?