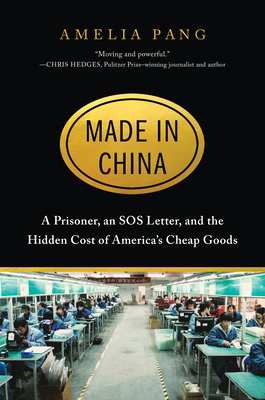 Made in China
A Prisoner, an SOS Letter, and the Hidden Cost of America's Cheap Goods
Hardcover

* Individual store prices may vary.
Other Editions of This Title:
Digital Audiobook (2/1/2021)
Paperback (1/4/2022)
MP3 CD (2/2/2021)
Compact Disc (2/2/2021)
February 2021 Indie Next List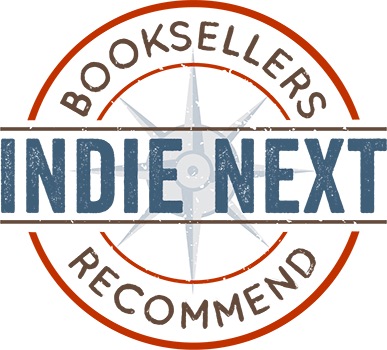 "This powerful story arises from an improbable source: a crude, hand-written note slipped into Halloween merchandise made in China, a note that leads Pang on a search for its author and introduces her to the nightmare life of Chinese prison labor, so-called re-education camps, the worst horrors of living in a police state, and lives destroyed just for being an independent thinker. The toll on individuals is foregrounded here and summons us to be humane to all."
— Susan Thurin, Bookends On Main, Menomonie, WI
View the List
Description
A Most-Anticipated Book of the Year: Newsweek * Refinery29

"Timely and urgent . . . Pang is a dogged investigator." —The New York Times Book Review

"Moving and powerful." —Chris Hedges, Pulitzer Prize–winning journalist and author 

Discover the truth behind the discounts
 
In 2012, an Oregon mother named Julie Keith opened up a package of Halloween decorations. The cheap foam headstones had been five dollars at Kmart, too good a deal to pass up. But when she opened the box, something shocking fell out: an SOS letter, handwritten in broken English.
  "Sir: If you occassionally buy this product, please kindly resend this letter to the World Human Right Organization. Thousands people here who are under the persicuton of the Chinese Communist Party Government will thank and remember you forever."
The note's author, Sun Yi, was a mild-mannered Chinese engineer turned political prisoner, forced into grueling labor for campaigning for the freedom to join a forbidden meditation movement. He was imprisoned alongside petty criminals, civil rights activists, and tens of thousands of others the Chinese government had decided to "reeducate," carving foam gravestones and stitching clothing for more than fifteen hours a day.

In Made in China, investigative journalist Amelia Pang pulls back the curtain on Sun's story and the stories of others like him, including the persecuted Uyghur minority group whose abuse and exploitation is rapidly gathering steam. What she reveals is a closely guarded network of laogai—forced labor camps—that power the rapid pace of American consumerism. Through extensive interviews and firsthand reportage, Pang shows us the true cost of America's cheap goods and shares what is ultimately a call to action—urging us to ask more questions and demand more answers from the companies we patronize.
 
Praise For Made in China: A Prisoner, an SOS Letter, and the Hidden Cost of America's Cheap Goods…
"A moving and powerful look at the brutal slave labor camps in China that mass produce our consumer products. Amelia Pang, who puts a human face on the Chinese laborers who work in bondage, makes clear our complicity in this inhuman system. She forces us, like the abolitionists who battled slavery in the 19th century, to place the sanctity of human life before the maximization of profit. It is hard not to finish this book and not be outraged, not only at the Chinese government but the American corporations that knowingly collaborate with and profit from this modern slave trade."
—Chris Hedges, Pulitzer Prize–winning journalist and author

"Amelia Pang has written a powerful new book that traces what we buy back to those who made it, often under truly torturous conditions."
—Scott Simon, host of NPR / Weekend Edition Saturday

"Amelia Pang exposes the shadow economy of forced labor in Made in China. Pang adroitly situates readers to Chinese culture and society… [and] sounds an uplifting note of agency and empowerment about the prospective impact of reforming Western consumption."
—San Francisco Chronicle

"The result of Pang's investigation is this powerful, illuminating book, which serves as a reminder that not only is nothing in life actually free, but it should also never be inexplicably cheap—someone, somewhere, is always paying the price."
—Refinery29

"Journalist Pang debuts with a vivid and powerful report on Chinese forced labor camps and their connections to the American marketplace. Cinematic . . . Engrossing and deeply reported, this impressive exposé will make readers think twice about their next purchase." 
—Publishers Weekly, starred review

"With clarity and sensitivity, [Pang] exposes the human cost of the global demand for cut-rate products, and provides clear calls to action for individuals, corporations and governments to stem these abuses. Any reader with half a heart will be hard-pressed not to re-examine their own buying habits after reading this incredible, moving account." 
—Shelf Awareness

"A powerful call to action and advice for conscientious consumption . . . Spanning biography, business, and sociology, this well-reported and well-researched account of labor practices shows the impact of the demand for global goods." 
—Library Journal

"A powerful argument for heightened awareness of the high price of Chinese-made products." 
—Kirkus Reviews

"Readers will be drawn into this thoroughly researched narrative and will be awakened by the author's pleas for consumers to be more vigilant about the origin of their goods."
—Booklist

"The book is an excellent entry-level explanation of Chinese religious and political history, and how human rights abuses intersect with billion-dollar businesses. Pang connects the dots between globalization, Western consumption, and sustainability to create a clear, cohesive picture of the problem, as well as of potential solutions." 
—BookPage

"A cinematic approach to a vital topic, which should be as close to our hearts as cheap goods are to our wallets. Amelia Pang provides close-ups of the individual stories behind labor camps, and wide-angle views of their context and history."
—Alec Ash, author of Wish Lanterns: Young Lives in New China
"Sun's story shows the inhuman nature of the authoritarian Chinese government. The narrative consists of many people's untold stories. After reading this book, anyone with a conscience will realize it is time to take action for those who are persecuted by the Chinese dictatorship."
—
Chen Guangcheng, author of The Barefoot Lawyer: A Blind Man's Fight for Justice and Freedom in China
"The problem of illegal prison labor being used in the People's Republic of China to manufacture goods for global markets is a longstanding one that keeps resurfacing in new guises. Now with this well-researched and reported book that reads like a detective story, investigative journalist Amelia Pang has opened a new porthole on this pernicious practice."
—Orville Schell, Arthur Ross Director of the Center on U.S.-China Relations at the Asia Society 
Algonquin Books, 9781616209179, 288pp.
Publication Date: February 2, 2021
About the Author
Amelia Pang is an award‑winning journalist who has written for publications such as Mother Jones and the New Republic. In 2017, the Los Angeles Press Club awarded her first place in investigative journalism for her undercover reporting on the exploitation of smuggled immigrants who are recruited to work in Chinese restaurants. Amelia grew up in a Mandarin‑speaking household in Maryland, and holds a BA in literary studies from the New School. She lives near Washington, DC.
 
1. In 2012, an Oregon mother named Julie Keith opened a package of Halloween decorations. An SOS letter, handwritten in broken English by the prisoner who'd made and packaged the items, fell out of the box. What would you do if you found such a letter?
2. The author of the SOS letter was a political prisoner named Sun Yi. Does Sun's story change your views on products that were made in China? What are some factors you might consider the next time you go shopping?
3. Historically, systemic forced labor was not unique to China. Unpaid labor has made many empires wealthy throughout the centuries. What other powerful economies have relied on forced labor in the past? Can you think of other instances of forced labor still happening today?
4. Ulrich Orth, an associate professor of developmental psychology at the University of Bern in Switzerland, speaks about how consumers compartmentalize to justify the ethics of their purchases. What else do people in our society compartmentalize?
5. Do you think consumers are capable of consistently making ethical buying choices? Or will price and desire always prevail? How does poverty and the need for cheap options complicate the equation?
6. Some brands claim to be transparent by releasing summaries of their factories' audit scores. But they often don't reveal the comprehensiveness of their audits. Were you surprised to learn that measures designed to create transparency don't always do so? After reading this book, are there any brands that you do still trust to be transparent, ethical, and sustainable? Which ones, and why?
7. When American companies make sudden production changes to stay current with the latest fast-fashion trends, factories often do not have time to keep up with these changes in-house. They must subcontract work to forced laborers—who can work all night to meet production deadlines. As American consumers, are we complicit if we buy these goods?
8. Is it possible to 100% avoid "Made in China" products? What are some more realistic and impactful strategies to create social change?
9. In 1991, a 60 Minutes exposé on Chinese forced-labor products being sold in American stores shook American consumers. It even led to congressional hearings in which political figures such as Joe Biden and Nancy Pelosi expressed outrage. Three decades later, Chinese prison products are still being sold in the US. Why do you think so little has changed?
10. Falun Gong is a religious group that is banned in China. Although its members initially advocated only for freedom of religion, the group has since morphed into a sprawling underground resistance movement against the Chinese Communist Party. What role does Falun Gong play in Sun's life? How does it affect Sun's choices?
11. Sun had a complicated relationship with May. How did Sun's activism affect his family life? Do you think his personal sacrifices were worthwhile?
12. China has developed an unprecedented high-tech predictive policing program—one that uses artificial intelligence and big data to teach computers how to predict terrorism before it happens. Do you think China will be the only country to do this, or can you imagine similar programs being used in our society? After reading this book, what do you think the pros and cons of such a system would be?