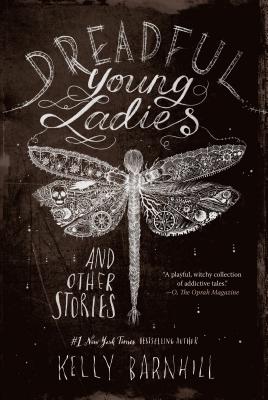 Dreadful Young Ladies and Other Stories
Paperback

* Individual store prices may vary.
Other Editions of This Title:
Digital Audiobook (2/19/2018)
Hardcover (2/20/2018)
Compact Disc (2/20/2018)
Library Binding, Large Print (7/25/2018)
Description
An exquisite collection of haunting, magical stories from Newbery Medalist Kelly Barnhill

When Mrs. Sorensen's husband dies, she rekindles a long-dormant love with an unsuitable mate in "Mrs. Sorensen and the Sasquatch." In "Open the Door and the Light Pours Through," a young man wrestles with grief and his sexuality in an exchange of letters with his faraway beloved. "Dreadful Young Ladies" demonstrates the strength and power—known and unknown—of the imagination. In "Notes on the Untimely Death of Ronia Drake," a witch is haunted by the deadly repercussions of a spell. "The Insect and the Astronomer" upends expectations about good and bad, knowledge and ignorance, love and longing. The World Fantasy Award–winning novella "The Unlicensed Magician" introduces the secret magical life of an invisible girl once left for dead—with thematic echoes of Barnhill's Newbery Medal–winning novel, The Girl Who Drank the Moon.

With bold, reality-bending invention underscored by richly illuminated universal themes of love, death, jealousy, and hope, the stories in Dreadful Young Ladies show why its author has been hailed as "a fantasist on the order of Neil Gaiman" (Minneapolis Star Tribune). This collection cements Barnhill's place as one of the wittiest, most vital and compelling voices in contemporary literature.
Praise For Dreadful Young Ladies and Other Stories…
"[A] playful, witchy collection of addictive tales."
—O, The Oprah Magazine
 
"Kelly Barnhill won the prestigious Newbery Medal last year for her children's story The Girl Who Drank The Moon. Her new book Dreadful Young Ladies and Other Stories is just as fantastical but delves into darker, more complicated worlds for adult readers."
—Lulu Garcia-Navarro for NPR

"Finds the author at her most poignant and surprising."
—Entertainment Weekly

"The eight short stories and one novella in Newbery Medalist Barnhill's collection are haunting and beautifully told . . . Each story is written in intensely poetic language that can exult or disturb, sometimes within the same sentence, and evokes a dreamlike, enchanted mood that lingers in the reader's mind. These tales are made to be reread and savored."
—Publishers Weekly, starred review

"Barnhill's exquisite prose leads readers down many fantastical roads  . . . the themes of love, grief, power, and hope tie the individual stories together in a masterly way . . . Barnhill highlights fantasy's breadth with unusual settings and extraordinary characters living outside of the realm of reality. A magical volume for fans of the genre."
—Library Journal, starred review

"Exquisite . . . Perfect for readers of the weird and fantastically wonderful. Give to fans of Alice Hoffman, Laura Ruby, and Seanan McGuire."
—School Library Journal

"Newbery medalist Barnhill dazzles in her short story collection for adults . . . This is a well-crafted short story collection featuring elements of magic realism while touching on the themes of love, grief, hope, jealousy, and more. Fantasy readers—especially fans of Neil Gaiman or even Kelly Link—will appreciate this spellbinding collection."
—Booklist

"Reminiscent of Ray Bradbury or Angela Carter . . . Whether Barnhill's settings are contemporary, historical, or dystopian, she mixes the feeling of fairy tales with the psychological preoccupations of literary fiction."
—Kirkus Reviews

"The fabulous, the speculative and the surreal make up the stories in Barnhill's marvelous collection, Dreadful Young Ladies and Other Stories . . . but it's Barnhill's sly humor and her poetic prowess with imagery and metaphor that enchanted me most of all."
—Minneapolis Star Tribune

"These eight fantastical, magical stories and a novella are filled with images of flying and wings, on humans, ghosts and insects . . . These are compelling, sometimes baffling, always interesting stories in which people disappear, babies are born and taken by the government, and girls and women are bold and sometimes frightening. There's a very blurry line between the 'real' and the imagined."
—St. Paul Pioneer Press

"[Barnhill] shows us things that are not real, but are nevertheless true; things that we know to be important even though they may not exist. To put it another way, she writes fairy tales. Fairy tales written in lush, insistent, dreamlike prose. Yarns that the Grimm brothers never dreamed. Some of her stories are written to be read by children, but all of her stories are for adults. Kelly Barnhill is astonishingly good at this."
—Pete Hautman for Electric Literature
 
"A breathtaking collection of tales that traverse the intersection of reality and fantasy, all the while reminding us of the very values that make us human."
—PopSugar

"Kelly Barnhill follows up her Newbery Medal-winning The Girl Who Drank the Moon in a most unexpected fashion: with a collection of fantastical short stories for older teens and adults. Dreadful Young Ladies and Other Stories is the kind of writing that does not rely on shock and awe, but rather on fascinating characters doing unusual things in evocative settings. It is certain to broaden Barnhill's fan base and should draw favorable comparisons to Neil Gaiman with ease. Prepare for a wholly unique reading experience with this collection, one to be savored with each luscious page."
—Locus
 
"Dreadful Young Ladies and Other Stories is entertainingly subversive and often questions normative culture . . . Barnhill's work pushes beyond the confines of the fantasy genre and makes the reader want to believe that magic is part of our lives. Indeed the themes in this collection of short stories develop basic human responses such as love, death, and jealousy. But each story unfolds a darker and supernatural element to these emotions. Readers will easily identify with these characters and become engrossed in the mysteries of the supernatural."
—Pop Matters
 
"[A] fierce new collection for adults . . . magical tales of characters seeking their own paths even though society would rather they meet certain expectations. These characters are unexpected and fresh: Readers will meet a woman who loves a Sasquatch, a guilt-stricken witch, and an invisible girl."
—Bookish
Algonquin Books, 9781616209247, 304pp.
Publication Date: March 12, 2019
About the Author
Kelly Barnhill lives in Minnesota with her husband and three children. She is the author of four novels, most recently The Girl Who Drank the Moon, winner of the 2017 John Newbery Medal. She is also the winner of the World Fantasy Award and has been a finalist for the Minnesota Book Award, a Nebula Award, and the PEN/USA literary prize. Visit her online at kellybarnhill.com or on Twitter: @kellybarnhill.