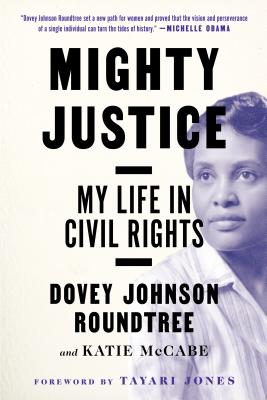 Mighty Justice
My Life in Civil Rights
Paperback

* Individual store prices may vary.
Description
"Dovey Johnson Roundtree set a new path for women and proved that the vision and perseverance of a single individual can turn the tides of history."
—Michelle Obama

In Mighty Justice, trailblazing African American civil rights attorney Dovey Johnson Roundtree recounts her inspiring life story that speaks movingly and urgently to our racially troubled times. From the streets of Charlotte, North Carolina, to the segregated courtrooms of the nation's capital; from the male stronghold of the army where she broke gender and color barriers to the pulpits of churches where women had waited for years for the right to minister—in all these places, Roundtree sought justice. At a time when African American attorneys had to leave the courthouses to use the bathroom, Roundtree took on Washington's white legal establishment and prevailed, winning a 1955 landmark bus desegregation case that would help to dismantle the practice of "separate but equal" and shatter Jim Crow laws. Later, she led the vanguard of women ordained to the ministry in the AME Church in 1961, merging her law practice with her ministry to fight for families and children being destroyed by urban violence.
Dovey Roundtree passed away in 2018 at the age of 104. Though her achievements were significant and influential, she remains largely unknown to the American public. Mighty Justice corrects the historical record.
Praise For Mighty Justice: My Life in Civil Rights…
"Dovey Johnson Roundtree set a new path for women and proved that the vision and perseverance of a single individual can turn the tides of history."
—Michelle Obama

"Part moving memoir, part inspiration to resist, Mighty Justice is a must-read."
—Ms. Magazine

"The picaresque arc of her life pulses through this exquisite and essential memoir as she battles her way out of the segregated South and into some of the highest courts in the land, carving 'a way out of no way.'"
—O: The Oprah Magazine

"Trailblazing attorney Dovey Johnson Roundtree died last year at 104, but her legacy shines bright in her memoir. Penned with Katie McCabe and featuring a foreword from An American Marriage author Tayari Jones, it not only covers Johnson's triumphant journey, but it also enriches our collective memory."
—Essence

"Some life stories are too important to be relegated to dusty history books. They must be remembered, honored, shared. Dovey Johnson Roundtree lived that large and remarkable a life."
—The Associated Press

"In this apparent golden age of memoir, some stories shine brighter than others. Mighty Justice: My Life in Civil Rights is one lucent example of the brighter variety . . . This memoir by pathbreaking black attorney Dovey Johnson Roundtree deserves a spot alongside works by and about Pauli Murray and Barbara Jordan."
—Shelf Awareness

 "Readers will find [Roundtree's] dogged certainty in the inevitable triumph of justice in times of social upheaval both timely and inspiring. This superb work should ensure that Roundtree receives the recognition she richly deserves."
—Library Journal (starred review)
 
"Thoughtful and highly inspiring, this book, co-authored by McCabe, is not only a moving memoir; it is also an important contribution to the history of civil rights in America . . . An eloquently told story that should make an impact."
—Kirkus Reviews

"[An] inspirational, history-rich memoir . . . In straightforward . . . prose, she covers her many transformative moments, including being in the courtroom as a spectator when Plessy v. Ferguson was overturned in 1954, and winning a critical travel-discrimination case in 1955 that helped end the segregation of bus passengers in America . . . This eye-opening, accessible book documents the life of a trailblazing human rights advocate."
—Publishers Weekly

"Powerful . . . Mighty Justice is an inspiring and intense memoir by an extraordinary woman and mentor who deserves a high profile in American history."
—Foreword Reviews

"Roundtree never gave up on America. Her story is at the same time infuriating, heartbreaking, moving, joyous, and powerful. Read it and you will feel inspired." 
—Liza Mundy, New York Times bestselling author of Code Girls
 
"Dovey Roundtree is my hero. This is not only a great read, but a must read. I recommend it to anyone thinking about justice or trying to find ways to overcome challenges they face."
—Charles J. Ogletree, author of Without Parole: America New Death Penalty

"Dovey Roundtree's nobility, the courage and effectiveness of her work, are enough to restore one's hope for the human race. The book, though it describes an era that is past, is above all a study of something that doesn't change much—human character and its possibilities."
—Lance Morrow, Time magazine essayist and author of Evil

"You will learn so very much about determination, values, courage, manners, and the moral strength of this family. The experience will enhance your appreciation for the struggles and achievements against the odds, and the meanness of stereotypes. And you will see and learn American history and human history at its best."
—Dr. Walter J. Leonard, former president of Fisk University and founding committee chair of the W.E.B. Du Bois Institute for African and African American Research, Harvard University

"To read how Dovey Roundtree struggled to help others and to make a difference in our world is exalting. This book tells what one determined, unstoppable woman did with her life to change laws and traditions to make America a better, fairer, and more respectful country."
—Brig. Gen. Wilma L. Vaught, USAF (Ret.), President, Women in Military Service for America Memorial Foundation
Algonquin Books, 9781616209551, 304pp.
Publication Date: November 5, 2019
About the Author
Dovey Johnson Roundtree was an attorney and minister who was one of the first women to be commissioned as an Army officer and who helped win a landmark case banning segregation in interstate bus travel. She passed away in 2018 at the age of 104.

Co-author Katie McCabe is a freelance writer whose National Magazine Award–winning article on African American medical legend Vivien Thomas was the basis for the HBO film Something the Lord Made, winner of three Emmys and a  Peabody Award. McCabe lives in Washington, DC. Mighty Justice is the product of her ten-year collaboration with Dovey Johnson Roundtree.

Tayari Jones is the author of four novels, including Silver Sparrow, The Untelling, and Leaving Atlanta. Jones holds degrees from Spelman College, Arizona State University, and the University of Iowa. A winner of numerous literary awards, she is a professor of creative writing at Emory University. Visit her website at www.tayarijones.com.