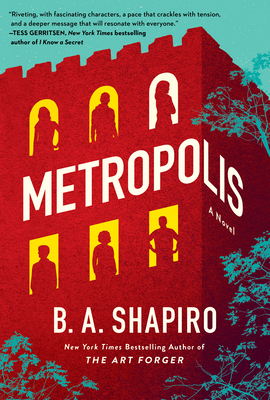 Metropolis
A Novel
Hardcover

* Individual store prices may vary.
Description
This masterful novel of psychological suspense from the New York Times bestselling author of The Art Forger follows a cast of unforgettable characters whose lives intersect when a harrowing accident occurs at the Metropolis Storage Warehouse in Cambridge, Massachusetts.

But was it really an accident? Was it suicide? A murder? Six mysterious characters, who rent units in, or are connected to, the self-storage facility, must now reevaluate their lives. We meet Serge, an unstable but brilliant street photographer who lives in his unit, which overflows with thousands of undeveloped pictures; Zach, the building's owner, who develops Serge's photos as he searches for clues to the accident; Marta, an undocumented immigrant who is finishing her dissertation and hiding from ICE; Liddy, an abused wife and mother, who recreates her children's bedroom in her unit; Jason, who has left his corporate firm and now practices law from his storage unit; and Rose, the office manager, who takes kickbacks to let renters live in the building and has her own complicated family history.

The characters have a variety of backgrounds: they are different races; they practice different religions; they're young and they're not so young; they are rich, poor, and somewhere in the middle. As they dip in and out of one another's lives, fight circumstances that are within and also beyond their control, and try to discover the details of the accident, Shapiro both dismantles the myth of the American dream and builds tension to an exciting climax.

For readers of Janelle Brown, Lucy Foley, Megan Abbott, and Laura Lipmann, Metropolis is an original, spellbinding, and moving story of what we hang on to, what we might need to let go, and how unexpected events can lead us to discover our truest selves.
Praise For Metropolis: A Novel…
"Metropolis has all the elements I love in a novel: fascinating characters, a pace that crackles with tension, and a deeper message that will resonate with everyone. Once again, B. A. Shapiro weaves a unique and riveting tale." 
—Tess Gerritsen, New York Times bestselling author of I Know a Secret

"A rich and gripping journey through intersecting lives, a nuanced exploration of characters who share nothing in common—but almost everything too. Inventive and immersive, it's a page-turner of novel that will also make you want to slow down and soak it all in."
—Lou Berney, Edgar Award-winning author of November Road

"In Metropolis, Shapiro is the literary equivalent of a master juggler, writing with tremendous compassion and a wonderful knack for storytelling. Her characters whirl together within the confines of a self-storage unit and, though at its core is a mystery, its beating heart is their stories. It is a dazzling performance and a novel that will stay with me for a long time to come."
—Mary Morris, author of Gateway to the Moon
Algonquin Books, 9781616209582, 368pp.
Publication Date: May 17, 2022
About the Author
B. A. Shapiro is the bestselling author of The Collector's Apprentice, The Muralist, and The Art Forger, which won the New England Book Award for Fiction and the Boston Authors Society Award for Fiction, among other honors. Her books have been selected as community reads in numerous cities and translated throughout the world. Before becoming a novelist, she taught sociology at Tufts University and creative writing at Northeastern University. She and her husband, Dan, divide their time between Boston and Florida.