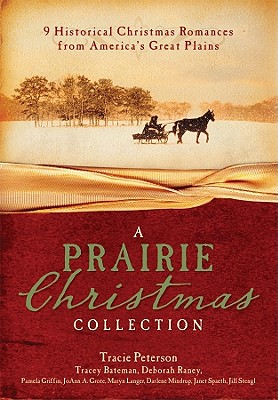 A Prairie Christmas Collection (Paperback)
9 Historical Christmas Romances from America's Great Plains
Barbour Books, 9781616260040, 448pp.
Publication Date: September 1, 2010
* Individual store prices may vary.
Description
Experience Christmas on the historical American Great Plains as retold by nine different multi-published authors, including Tracie Peterson and Deborah Raney. Follow pioneers, immigrants, and orphans through their adventures, heartaches, challenges, victories, and romances. You are sure to find more than one favorite among the nine holiday romances in this unique collection to warm your heart and inspire your faith.
Praise For A Prairie Christmas Collection: 9 Historical Christmas Romances from America's Great Plains…
I appreciated that I could sit down and read one story at a time. This alone is great this time of the year, when the rushing begins for the holidays. One story is just enough to give me a little Christmas spirit and then be on my way! The stories are written by nine different authors with different styles, but all easy and enjoyable to read. The stories are sweet and Christian. If you enjoy reading about old-fashioned, old-timey holiday stories - this is the book for you!


-Sally Riley

Each romance gives a glimpse of the late 1800's on the Great Plains. I recommend perusing the book jacket and selecting a story that fits your mood. I found it soothing to read an entire selection in one sitting, and then choose another story the next day.
-Carolyn R Scheidies

I enjoyed a great deal of the book which means that if readers enjoy a good love story, or have lived through or happen to like prairie and early settler settings, they will greatly enjoy these short stories.

It is a lovely book to hold, and read, and daydream with.
-Deb Shunamon

A Prairie Christmas Collection: 9 Historical Christmas Romances from America's Great Plains by various authors is a wonderful inspirational Christmas romance. This is a beautiful Christmas story that shows with courage, determination and faith love can find its true heart and survive. I would recommend this book especially if you enjoy sweet Christmas stories by various authors all in one book.


-April Renn

If you're a fan of historical romances or would just like to relax with some short stories during the cold nights before Christmas, I'd definitely recommend putting this book on your wishlist for next winter.
-Rachel Ropper

These stories are amazing! I love how they capture different aspects of life, love and happiness. They also however encompass the reality that life isn't always what we think it should be. When in doubt God's plans will carry us through to where we need to be not where we want to be. These stories reflect on various tragedies and how they can make us leery when allowing God to control our lives. Each author takes a different twist on what Christmas means to the characters. Christmas is supposed to be joyous time of the year.When hardships and tragedy strike, will these nine men come through for the loves of their lives? Will they be able to show them that no matter the circumstances God can provide for a wonderful holiday season? This book will challenge you to accept the hardships life has to offer as gifts from God. To see that even the hard times can result in God's blessings if we walk with Him.
-Sharise Toombs

I felt each of these stories had great character development considering the length of each. Each story is different and does not tie in with each other. I highly recommend this book that also has some very tempting recipes!


-Kathy Warth
or
Not Currently Available for Direct Purchase