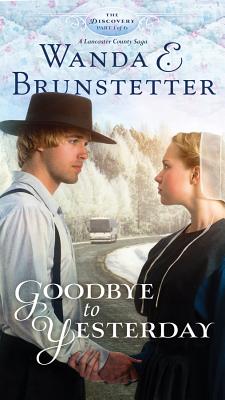 Goodbye to Yesterday (Paperback)
Barbour Publishing, 9781616260859, 121pp.
Publication Date: February 5, 2013
Description
Book 1 of an exclusive 6-consecutive-month release Amish serial novel. In Goodbye to Yesterday, part one of New York Times Bestselling author, Wanda E. Brunsetter's The Discovery--A Lancaster County Saga, Meredith and Luke Stoltzfus, an Amish couple, are faced with the greatest challenge of their young lives. Financial struggles. Arguments. A suspected pregnancy. A last-minute trip to Middlebury, Indiana. A deadly encounter at a Philadelphia bus station. Will their love and faith be enough to bring them back together again, against all odds? Follow their story in this exclusive 6-consecutive-month serial novel.
Praise For Goodbye to Yesterday…
I have always enjoyed reading books by this author but this was the first time to read one in a six-part serial novel. I was pleasantly surprised to enjoy reading book # 1 and was so looking forward to book #2. As described above this story centers around Meredith and Luke Stoltzfus but the the author intertwines other characters to build on to her story. The author Wanda Brunstetter does not disappoint. I can't wait to read the rest of the story.
-Vicky Everitt

I really enjoyed Wanda's new book Goodbye to Yesterday and I loved the cliffhanger ending! I was really excited to start her new series and I really love how they are releasing one book each month for six months. I think this is a great idea and it gives readers more time with the characters. Goodbye to Yesterday was a quick read because the book was shorter since there are more installments. I liked this because it kept the story moving. I also enjoyed how relevant the story is for the times we are living in. The couple, Luke and Meredith have only been married for a little over a year and Luke lost his job. The couple, living on a savings account that is diminishing, like many people today, have to find a way. I thoroughly enjoyed reading Goodbye to Yesterday and I think many readers will be able to relate to the story.
-Zac Weikal

I really enjoyed this book.  It is a short one but is the first one in a series of 6... Although part of the book is sad I still really like the story line.  Wanda's books are always filled with fun happenings and serious ones too.  This is a good book to take along to a Dr or dentist appointment as it is short and can be read in just an hour or two.  I can't wait until the other five come out!!
-Rachael Coe

Wanda writes in a comfortable, easy-flowing style which I find easy to read. There's more narrative than dialogue or action in this part, but I think that's in order to set the stage - to provide necessary and relevant information to help us better understand the characters and their actions. I thought the narrative was done well.

I definitely recommend this book to those who enjoy inspirational Amish fiction. Just realize that Goodbye to Yesterday is the first of six parts and therefore short. 
-Carole Jarvis

Another great book by Wanda Brunstetter just a little different than the norm. So true to life..a young Amish couple faced with so many challenges, so many strains on their marriage.  The chance for a new career since his job lost has put such a strain on their finances, but he must travel  to his uncle's and the weather is not good .  Though it is based on Amish life, this book  fits in with what many Americans are facing today with the economic uncertainty all around us
-Candie S.

This was a wonderful heartwarming story wrapped around love and family values. I'm a first-time reader of Ms. Brunstetter and I'm so happy I picked this book up. I'm now a new fan among her legion of many followers. One more thing that I'd like to mention about this book is that it's written as an installment story rather than long, individual stories in a series. Each story is roughly one hundred and twenty pages and tells a short part of this ongoing story. Each book, thereafter, just picks up where one ends. I've never seen an installment story presented in this fashion, but I must say that it was fun to find a different presentation of a storyline that this author was offering her readers. I highly recommend the first installment and I eagerly look forward to continuing on my journey with Luke and Meredith. 
-Diana Coyle
Advertisement