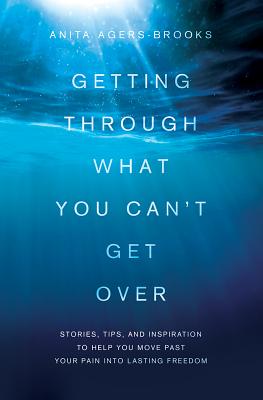 Getting Through What You Can't Get Over (Paperback)
Stories, Tips, and Inspiration to Help You Move Past Your Pain into Lasting Freedom
Shiloh Run Press, 9781616264185, 240pp.
Publication Date: April 1, 2015
* Individual store prices may vary.
Description
There are some things in life people never get over. No matter how much they want to.
Many experience abuse, financial disaster, serious illness, death of loved ones, and other common traumas making them believe they'll never move past the pain, but through research and true story compilations, author Anita Agers-Brooks offers emotional, practical, and spiritual insights from experts and people who have survived intense trauma—and have made it through seemingly impossible situations.
 
About the Author
Anita Agers-Brooks inspires others to overcome and thrive, by telling her own dramatic stories, and sharing those of people who also believe, "It's never too late for a fresh start with fresh faith." Anita is a speaker on circuit for Stonecroft Ministries,
www.stonecroft.org
, a popular keynote and session guest for various national, state, and regional association conferences, as well as a leadership/staff trainer for organizations around the country. She also speaks to churches, and Christian colleges, as well as public school systems.
Praise For Getting Through What You Can't Get Over: Stories, Tips, and Inspiration to Help You Move Past Your Pain into Lasting Freedom…
Readers will be drawn in by real-life stories of individuals struggling with deep issues. In the first chapter, Agers-Brooks shares her story of being in a black, bleak hole when God brought a Jewish woman who survived Auschwitz to her. The story is totally riveting. Throughout the book, readers will feel like Agers-Brooks knows their situation and is walking alongside them. 
— Neil Bartlett
I found this book to be a very insightful and inspirational read. The author explains (in a clear and easy-to-follow format) how to get through a traumatic experience and rise above it to live a positive, happy life (no matter what the past). She gently reminds readers that God does not abandon people when life gets tough; He is there right beside us, helping us to get through it. I liked how she presented a wide variety of challenges, such as death, illness, financial problems, and abuse to show that different difficulties affect people in different ways, but there is a way to overcome all of it. I think this book would be very beneficial to anyone going through a difficult time.
— Charity Tober
[Getting Through What You Can't Get Over] is a well-presented self-help guide filled with the author's insights on survival and healing. Her opening story of her meeting with Dr. Eger is fascinating, and I was touched by the author's fearless candor in discussing her emotional state as she interacted with Eger. I was also impressed by her inclusive and thorough coverage of the causes of PTSD and found many of her exercises and guided meditation concepts to be well-considered. They should be quite guided meditation concepts to be well-considered. They should be quite helpful for Christians, especially those who are conversant with the Bible and Biblical study.
— Jack Magnus
Reading Getting Through What You Can't Get Over helped me get over feelings of aloneness in the face of the challenges of my past year, and offered me concrete methods to deal with those challenges. Each chapter ends with Insider Insights: emotional healing, spiritual comfort, practical help, then a guided prayer directly related to the trauma discussed in that chapter. It took me a while to get through Getting Through What You Can't Get Over because I savored and reflected upon each one of those prayers. It was well worth the time.
— Jane Allen Petrick
or
Not Currently Available for Direct Purchase