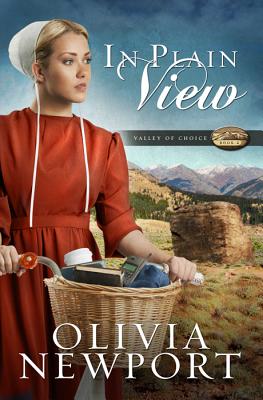 In Plain View (Valley of Choice #2) (Paperback)
Shiloh Run Press, 9781616267131, 368pp.
Publication Date: June 1, 2013
Other Editions of This Title:
Other (9/24/2014)
Hardcover, Large Print (11/28/2013)
* Individual store prices may vary.
Description

Annie's quest for simplicity is about to get complicated. Nearly a year after leaving her successful but unsatisfying high-tech life, she wonders if she can truly succeed at being Amish. A lucrative job offer, a red dress, and the shadow of an Amish woman looking for a husband create a vortex that clouds Annie's choice. Her parents seem determined to sabotage her efforts, and Rufus Beiler, an Amish carpenter who captured her heart, leaves room for doubt about their future. But when an explosion brings Annie under suspicion, can she clear her name and bring the future into plain view?



Valley of Choice Series:

Book 1 - Accidentally Amish

Book 2 - In Plain View

Book 3 - Taken for English - Available February 2014
About the Author
Olivia Newport's novels twist through time to find where faith and passions meet. Her husband and twentysomething children provide welcome distraction from the people stomping through her head on their way into her books. She chases joy in stunning Colorado at the foot of the Rockies, where daylilies grow as tall as she is.
Praise For In Plain View (Valley of Choice #2)…
IN PLAIN VIEW by Olivia Newport is an amazing inspirational Amish fiction/romance set in Westcliffe,Colorado. ...Ms. Newport writes a story that will hold the reader in awe. A heart-wrenching,touching,and tender story where a simple life may not be so simple after all. Well played,Olivia! A must read and one I would recommend if you enjoy Amish people,romance with a bit of history.
— April Renn
In Plain View, book 2 of Olivia Newport's Valley of Choice series, offers a full cast of engaging characters - juxtaposed at two different points in history - that will keep readers turning page after page in anticipation of Annie's choice.
— Amy McDonell
Simply stated, Olivia Newport is one of the truly gifted of today's Christian fiction authors. "In Plain View" is a smoothly engaging read featuring carefully crafted and memorable characters deftly woven into a story that grasps the readers total attention from first page to last.
— James A. Cox
I was anticipating this book because the previous one in the series left me wanting more. This book did not disappoint. I can relate to Annie and often find myself looking for the simple things in life. This was a very interesting book that captured me from the beginning. Can't wait to read more of the story in book 3!
— Sheri Emberton
or
Not Currently Available for Direct Purchase