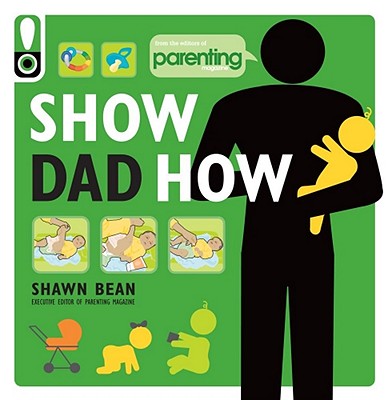 Show Dad How (Parenting Magazine)
The Brand-New Dad's Guide to Baby's First Year
Paperback

* Individual store prices may vary.
Description
Help any new or expecting father become the coolest, smartest, and most prepared dad around with Show Dad How, a fully illustrated, step-by-step guide to everything a dad needs to know from conception through baby's first year.

For dads who are excited to be involved with their new baby, but might not quite know where to start, Show Dad How is an ideal resource. From practical to playful, 156 awesome things every new father needs to know--one step at a time. In a series of nearly wordless, highly informative, often hilariously illustrated, step-by-step activities, dads-to-be learn how to do dozens of useful (and fascinating and important and sometimes surprisingly fun) tasks, including:

- Preparing to impregnate
- Recognizing the signs of pregnancy
- Childproofing a home
- Delivering a baby in the subway
- Handling diaper disasters
- Making bath time fun
- Inventing a fairy tale
- Mixing formula the right way
- Making baby laugh
. . . and much, much more.

Presented in the bold visual style of the award-winning Show Me How series, drawing on the best of information technology and graphic-novel communication, this is a innovative reference book that can and will be enjoyed as a work of art and as a quirky, thoughtful gift. Packed with useful hands-on tutorials, Show Dad How is a real-life resource that can turn dad into an expert in any situation, from the bedroom to the kitchen to the playground.
Weldon Owen, 9781616281113, 144pp.
Publication Date: May 17, 2011
About the Author
Shawn Bean is executive editor of Parenting and Babytalk magazines, each with a circulation of over two million. That's right: a guy editing magazines about babies. He is a pro football fanatic who also knows the best brand of binkies. He can hook up a DVD player and swaddle a newborn. Dad to Jackson, 6, and Tanner, 4, Bean has not only tackled serious topics like detecting autism in babies and toddlers, but he also pens "Pop Culture," a monthly humor column about dad's place in modern society. Thanks to his fertility and parenting know-how, Bean has appeared on the Today show, ABC News, and CNN. He lives in Melbourne, Florida, where family time often means fielding questions about body parts, ninjas, monsters, and lava.