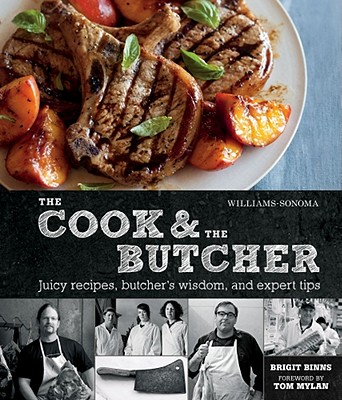 The Cook & the Butcher (Williams-Sonoma) (Hardcover)
Juicy Recipes, Butcher's Wisdom, and Expert Tips
Weldon Owen, 9781616281137, 224pp.
Publication Date: September 6, 2011
* Individual store prices may vary.
Description
Geared towards meat-loving home cooks looking for expert advice and inspiration, here are 100 delicious recipes for using the most popular cuts of meat, plus loads of practice tips from America's favorite butchers.
This friendly and accessible cookbook offers over 100 recipes for delicious meals using a wide range of popular beef, pork, lamb, and veal cuts and aims to help the home cook get the most out of meat for dinner. Each chapter begins with quick-cooking cuts and easy methods, like stir-frying, and progresses from there, offering recipes for grilling and pan-frying, and ending with recipes for more time-consuming cooking methods, such as roasting and braising. The recipes use a range of meat cuts that are easy to find at the butcher counter, and the flavors of the dishes, though varied and modern, are crowd-pleasing and familiar. The text is informative and comprehensive, but not too daunting or technical. Most of the recipes are accompanied by useful tips written by more than twenty butchers from across America.
In this innovative look at a favorite subject, author Brigit Binns draws on tips and tricks learned from renowned butchers and expert steak-house chefs to show you the best­—and most delicious—ways to cook beef, pork, lamb, and veal at home. Meat is the star in this collection of over 100 modern recipes, which use fresh, seasonal ingredients and a wide range of cooking methods—stir-frying, sautéing, panfrying, grilling, roasting, braising, smoking—to create irresistible dishes. Binns introduces us to such flavor-boosting cooking practices as residual-heat roasting, which slowly cooks large cuts to perfection in the lingering heat of a turned-off oven; double-searing steaks and chops on both ends of a long resting period to develop a tempting crust and melt-in-your-mouth texture; and seasoning meat before and during cooking. She also demystifies both the everyday and the novel techniques you've always wondered about, like how to make jerky; how to grind meat at home for sausages and burgers; how to butterfly, stuff, and tie meat; and how to pound, bread, and cook various cuts for the best results.
In a FAQ column that opens each chapter, "rock-star butcher" Tom Mylan, owner of The Meat Hook in Brooklyn, New York, answers many of the most common questions asked by his customers. Plus, more than twenty butchers from across the country chime in with both practical and offbeat "Notes from the Butcher" for the many of the recipes, offering everything from savvy shortcuts and suggestions for alternative cuts to tips on how to talk to your local butcher. Among the other practical tools you'll find are chalk-drawn meat charts that illustrate where specific cuts are found on each animal and easy-to-reference guides to doneness temperatures and cues.
Packed with flavor, personality, and inspiring full-color photographs, this book promises to turn any home cook and meat aficionado into a seasoned professional.
Sample tips from butchers:
"Meat on the bone yields the juiciest results when cooking steaks, not to mention the best value. The closer to the bone, the sweeter the meat! — Dave Zier, Zier's Prime Meats
"If your preferred cooking method is quick, hot, and dry, choose a cut with generous marbling for moist and flavorful results."— Ryan Farr, 4505 Meats
"Here's a tip to always keep in mind: Cook it slow and soft or fast and rare. Whether you choose pork shoulder to braise, or flap meat or skirt steak to grill, let this be your guide for mouthwatering dishes."— Tia Harrison, Avedano's
Featured Butchers:
4505 Meats (San Francisco, CA)
Alexander's Prime Meats and Catering (San Gabriel, CA)
Avedano's Holly Park Market (San Francisco, CA)
Belmont Butchery (Richmond, VA)
Bryan's Fine Foods (Corte Madera, CA)
Clancey's Meats and Fish (Minneapolis, MN)
Don and Joe's Meats (Seattle, WA)
Fleisher's Grass-fed & Organic Meats (Kingston, NY)
Gepperth's Meat Market (Chicago, IL)
Harvey's Guss Meat Co. (Los Angeles, CA)
Huntington Meats (Los Angeles, CA)
Laurelhurst Market (Portland, OR)
Lindy and Grundy's Meats (Los Angeles, CA)
Marczyk Fine Foods (Denver, CO)
The Meat Hook (Brooklyn, NY)
The Meat Shop (Phoenix, AZ)
Nelson's Meat Market (Cedar Rapids, IA)
O. Ottomanelli & Sons Prime Meat Market (New York, NY)
Ottomanelli Brothers (New York, NY)
Savenor's Market (Boston, MA)
Union Meat Company (Washington, D.C.)
Zier's Prime Meats and Poultry (Wilmette, IL)
or
Not Currently Available for Direct Purchase