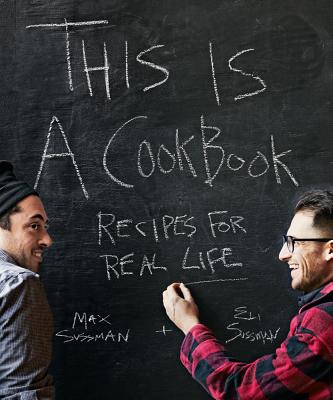 This Is a Cookbook (Paperback)
Recipes for Real Life
Olive Press (NZL), 9781616282141, 159pp.
Publication Date: September 10, 2012
Description
Do you want to feast on the most delicious sandwiches the world has ever seen? Get drunk and whip up the most stupidly awesome late-night snacks? Learn to cook food that's so much better than frozen or microwaved garbage that friends will be paying you to cook for them? Stop reading rhetorical questions and start cooking for real? Then this is the cookbook for you. Get into the kitchen. Use what's in there. And don't be worried about f'ing it up. James Beard Foundation 2012 Rising Star nominee Max Sussman and his partner in crime, Eli, are over perfection. They care about cooking good food that tastes like you made it. Teaming up with Olive Press, these Brooklyn brothers of uber-hip New York establishments Roberta's and Mile End have a go-to, hands-dirty method for wannabe-kitchen-badasses.
This is a Cookbook for Real Life features more than 60 killer recipes that demystify the cooking process for at-home chefs, especially young people just starting out. Combining years of elbow grease in the fiery bowels of restaurants, the Sussmans bring readers a plethora of tricks to make life in the kitchen easier and frankly, more fun. This new cookbook also re-creates some of their favorite comfort foods while growing up, as well as some recipes with their origins in brotherly b.s. that wound up tasting delicious.
The Sussmans have got the back of twenty-somethings, who may be too freaked to pick up a cast-iron skillet and instead opt for cop-out take-out as a culinary standby. This is a Cookbook for Real Life is designed to be a go-to kitchen companion with meals fit for one, two, or many, and features plans of attack for dinner shindigs. The best part? All of the book's recipes have easy-to-find ingredients that limit the prep time fuss and can be prepared in small (read: shoebox) kitchens. Chapters are organized by occasion, eating habits, and time of day so readers can enjoy lazy brunches, backyard grilled grub, a night in, dinner parties, midnight snacks, and sweet stuff. Want to increase your kitchen swag? Each chapter boasts special projects like home-curing bacon; pickling; making pasta from scratch; mixing cocktails, and "what'dya got sandwiches" -- and take it from the Sussmans, creativity in the kitchen makes a good impression in the long run. Why the authors think you'll want this book:
Max: There is an epidemic of bad food consumption going on and this cookbook can help you put an end to your reliance on fast food and frozen dinners. Don't you want to know how to cook awesome food for yourself and friends? How'd we know to include everything you'd ever want in a cookbook? It's because we're inside your brain. Creepy, sure, but true. Eli: Every once in a millennium, a powerfully re-imagined, provocatively written, and unforgettable cookbook emerges to capture the imaginations of food lovers worldwide. Deeply moving with personal anecdotes, robust recipes, and tantalizing photography--it's all here in This is a Cookbook. Seductive as it is refreshing, alluring and absorbing, it's the new essential cookbook for generations to come.
About the Author
Max Sussman (age 29) is the chef de cuisine at Roberta's in Brooklyn. He was recently named one of the 30 under 30 food and wine stars to watch in 2012 by Forbes magazine. During his tenure at Roberta's, the restaurant has received 2 stars from the New York Times and prompted critic Sam Sifton to write in his review that "[Roberta's is] one of the more extraordinary restaurants in the United States." Max was previously was the chef de cuisine at Eve, a beloved restaurant in Ann Arbor, Michigan, and worked under chef April Bloomfield at the Michelin starred Breslin in New York City. Eli Sussman (age 26) is a line cook at Mile End Deli in Brooklyn, which has been featured on several "best of" lists, including Time Out, GQ, and Village Voice. He is also the marketing director for Taste of the Nation NYC, an annual tasting event to benefit the national hunger charity Share Our Strength. He has MC'd events, such as the Los Angeles Times Taste and Taste of the Nation LA, and has written for several websites including LAist.com and WilliamsSonoma.com. Max and Eli's first cookbook, Freshman in the Kitchen, was released immediately after they graduated from college. They have cooked with Hoda and Kathie Lee on The Today Show and have appeared on WGN and ABC-Chicago morning programs.
Advertisement