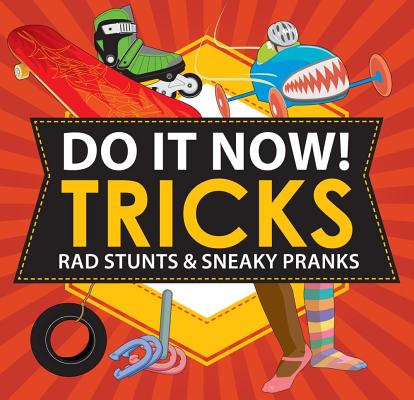 Do It Now! Tricks (Paperback)
Rad Stunts & Sneaky Pranks
Weldon Owen, 9781616283919, 80pp.
Publication Date: May 29, 2012
Other Editions of This Title:
Prebound (5/29/2012)
* Individual store prices may vary.
Description
With more than 80 amazing jokes, stunts, and games that range from blowing bubbles with your nose to popping a wheelie to spinning a place on a stick, Do Rad Tricks! is the illustrated guide to being plain awesome.

In every kid, there's a total show-off waiting to emerge—a zany impresario who can't wait to wow with a good magic trick or nail a crazy dance-floor move. And now with this book, they can learn how!
Far from your annoying uncle's collection of bad jokes and pranks, Do Rad Tricks! captures young readers' imaginations with its zany, just-for-kids ideas, bright artwork, and easy-to-rock-out instructions. Authors Sarah Hines Stephens and Bethany Mann know a thing or two about goofing off—they've got kids of their own to learn from!—and they've collected the best into this volume of 80 activities ranging from faking zombie makeup to boobytrapping a bathroom, from rollerskating backward to running a ninja obstacle course. Kids'll be thrilled–and parents'll be amused—with Do Rad Tricks!
This book contains two chapters—one of hilarious pranks and stunts, and one of active, outdoors activities to get kids moving—that update the stale, tried-and-true magic tricks and overdone pranks with fresh, modern, and above all fun activities for the next generation.
About the Author
Sarah Hines Stephens first learned to cook in order to get out of doing the dishes, and she still prefers making messes to cleaning them. One of three creative sisters, Sarah hails from generations of do-it-yourselfers: quilters, artists, writers, and gardeners. When Sarah is not facilitating semiexplosive science experiments and kid-friendly crafts, she writes books for kids. She has written more than sixty books, some for kid-friendly brands such as Gymboree and Scholastic. She lives with her husband and two children in a home filled with glitter, fabric scraps, glue, and power tools in Oakland, California.

Bethany Mann is Sarah's sister and partner in creative mess-making. With a rallying cry of, "Hey, we could totally make that ourselves!" she has fearlessly led her family and friends in numerous craft adventures. These days Bethany channels her artistic powers for good by using recycled materials and growing vegetables. Her projects have been featured in craft books for adults and on DIY TV. She lives with her husband, teenage son, and a menagerie of rescued pets in Santa Cruz, California. Read her blog at BitterBettyindustries.blogspot.com.