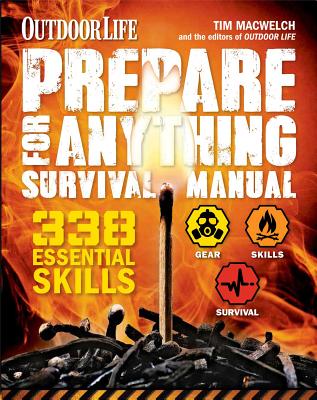 Prepare for Anything (Outdoor Life) (Paperback)
338 Essential Skills
Weldon Owen, 9781616286736, 256pp.
Publication Date: May 27, 2014
Other Editions of This Title:
Hardcover (6/17/2014)
* Individual store prices may vary.
Description
Are you preparing for the collapse of society? Concerned about making it through the next category 4 hurricane? Looking to be less dependent on an increasingly fragile infrastructure? If so, you are definitely not alone. In this timely follow-up to The Ultimate Survival Manual, Prepare for Anything is packed with hundreds of gear recommendations, skills, and survival tips and strategies to help you be ready for anything. From an economic collapse to natural disasters to government surveillance, this book has you covered.

GEAR UP
Learn where to begin, from stocking and storing your food and water correctly to buying the right gear for your area, as well as how to create the perfect Bug-Out Bag—and emergency plan—for any situation.
GET SKILLED
Fortune favors the prepared—and the multi-talented. When disaster strikes, will you know how to perform first aid, defend your home, and remain self-reliant? Learn skills that will get you through everything from a power outage to a hurricane to the apocalypse.
SURVIVE ANYTHING
If the worst happens...what happens next? Your survival, if you're read this book. You'll learn how to handle everything from organizing a community and protecting your homestead to growing food, purifying water, and even making weapons.
Prepare for Anything will take you through potential threats and teach you how to become prepared for them. This is the book for the preppers all over America. With hands-on hints, easy-to-use checklists, and engaging first-person stories to break down the crucial do's and don'ts, you know how to ride out whatever Mother Nature, the government, foreign powers, or modern society can throw at you.
About the Author
Tim MacWelch, founder and head instructor of Advanced Survival Training, has had a love of the outdoors from a young age, growing up on a farm in the rolling hills of Virginia. Eating wild berries, fishing for trout and learning about the animals of the forest were an everyday part of his country life. Tim has been an active practitioner of survival and outdoor skills for over twenty-four years; and he has been actively teaching survival skills for the past 16 years. Tim and his wilderness school have been on Good Morning America and National Geographic, and featured in several publications including Conde Nast Traveler Magazine and the Washington Post newspaper. Tim has written articles for Outdoor Life magazine, The Virginia Sportsman newspaper, and for several blogs and online survival sites. At the beginning of 2011, Tim became the head contributor for the Outdoor Life Survival website, and providing them with 3 articles per week, every week.