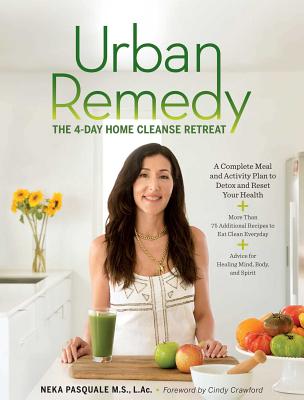 Urban Remedy (Paperback)
The 4-Day Home Cleanse Retreat to Detox, Treat Ailments, and Reset Your Health
Weldon Owen, 9781616288143, 176pp.
Publication Date: December 30, 2014
* Individual store prices may vary.
Description
Using a "food as medicine" philosophy, this solution-oriented, do-it-yourself cleanse program features a mostly raw and vegan eating plan centered around whole-foods and juices. From the popular Urban Remedy founder, Neka Pasquale, this is an appealing, lifestyle-driven roadmap to whole-food cleansing, weight loss, and balanced health. This book offers more than 75 delicious, healthy, whole food recipes as well as guidelines for how to prepare for, enjoy, and come back from a cleanse through a holistic mind-and-body approach. Modeled after the retreats the author led at her home in Northern California, this book is designed to help individuals break out of bad habits, reset routines and intentions, and improve their health and nutrition through powerful foods, herbs, spices, and energetic techniques. Sample recipes include:
-Raw breakfast granola
-Green detox juice
-Spicy avocado-spinach soup
-Sesame chips
-Collard-vegetable rolls with cilantro-lime sauce
-Cacao almond milk This book is one of the first to deliver an easy to follow, step-by-step at home cleanse program as well as everyday recipes to incorporate in your everyday post-cleanse life. It also shows you how to adopt principles of Eastern medicine into your lifestyle, and reveals how food can be used as medicine to solve common ailments such as indigestion, bloating, muscle pain, and allergies.
About the Author
Neka Pasquale is the face of Urban Remedy, and this book is a straightforward primer translating the concepts she learned in her career as Acupuncturist, healer, Reiki Master and Founder of Urban Remedy juice, vitamin, and snack line. After 11 years in private Acupuncture practice incorporating retreats for cleansing, weight loss and balanced health, Neka created her Urban Remedy line to empower her clients. Today, Urban Remedy is a fast-growing retail and web-based business boasting clients all over the U.S.