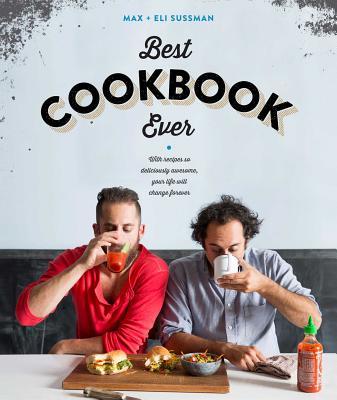 The Best Cookbook Ever (Paperback)
with recipes so deliciously awesome, your life will change forever
Weldon Owen, 9781616289010, 160pp.
Publication Date: September 9, 2014
* Individual store prices may vary.
Description
Recipes so deliciously awesome, parties so incredibly mind-blowing, pictures so breathtakingly beautiful, menus so expertly crafted, and stories so heartbreakingly poignant that you will cry as you cook from it, and it will change your life forever.

After conquering the world with our last cookbook, we're back again with more flavorful recipes and tales. Featuring dishes for authentic scenarios, like being totally hungover, prepping for the upcoming apocalypse, or heading out to the countryside with friends for a night at the cabin, this book will help you through real-life situations, such as . . . having no friends! And being vegetarian! And the changing seasons! And eating light before a heavy night!

We have and always will be down to party extremely hard. And in these pages, we share the best recipes of all time. Looking for snacks for an upscale house party on the last night of school? Your parents are out of town and you want to throw a raging pool party sure to bring the cops? We've got you covered with a slew of tasty bites that span the snack spectrum from trashy to classy, along with the best party menus the world has ever known.

You are on your way to personal and professional greatness. We know you will become a truly amazing cook. We can't wait to have you own this cookbook, as it's the best one ever written in the history of the world. Better yet, buy two copies because one is definitely going in your backyard time capsule and you don't want to have to dig it up four times a week when you get hungry.

"This is the best cookbook ever." max + eli sussman
About the Author
Max Sussman has been cooking professionally for more than ten years. He was the chef de cuisine at Roberta's when the restaurant received 2 stars from the New York Times and has also worked at the Breslin Bar & Dining Room. In 2012, Max was a James Beard Awards semifinalist for Rising Star Chef and was named both a Zagat and a Forbes 30 under 30. He will be opening a new restaurant in New York City in 2014. This is his third cookbook. He lives in Brooklyn.

Eli Sussman is the chef of Mile End Brooklyn, a nationally renowned Montreal-style Jewish delicatessen located in Brooklyn's Boerum Hill neighborhood. He is on the board of Taste of the Nation NYC, the Share Our Strength annual event that raises funds to help end childhood hunger in America; has emceed culinary events in Los Angeles, Washington, DC, and New York City; and was selected as one of Zagat's 30 under 30 NYC for 2012. This is his third cookbook. He lives in Brooklyn.

Erin Kunkel is an award-winning food and lifestyle photographer who works around the world and calls the foggy outerlands of San Francisco home. When she's not behind the camera, she can be found gardening, cooking, and dreaming of warm water surf spots.
or
Not Currently Available for Direct Purchase