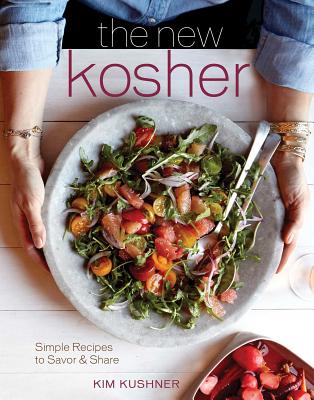 The New Kosher
Hardcover

* Individual store prices may vary.
Description
Kosher cooking has been redefined for the modern family. The New Kosher is filled with healthy recipes, exquisite flavors, and a fresh sensibility for the modern lifestyle. Emphasizing fast, easy, and delicious dishes for everyday meals and special occasions, this is your comprehensive guide to kosher cooking.

Kim Kushner comes from a diverse foodie background and her easygoing, mix and match style has helped her redefine kosher cooking. With over 100 recipes from all over the world, there's something for everyone in this unique cookbook.

Looking for a modern twist on a traditional dish? Try Kim's sticky date and caramel challah bread pudding, homemade challah with za'atar everything topping, 5-minute sundried tomato hummus or Mediterranean-inspired lentil, carrot and lemon soup.

Trying to find a new family favorite? Whip up some coconut- banana muffins with dark chocolate, penne with lemon zest, pine nuts and Parmesan "pesto", easy dill chicken and stew or a crispy rice cake with saffron crust.

Need a dessert everyone will love? You can't go wrong with recipes like deconstructed s'mores, crunchy-chewy-nutty "health" cookies, miniature peanut butter cups and dark chocolate bark with rose petals, pistachios and walnuts.

Warmly written with personal narratives and detailed nuance, Kim's recipes reflect her experience as a generous instructor who loves to teach and a mom who cooks tasty and nourishing fare for a big family.
Praise For The New Kosher…
"The new 'Queen of Kosher'"
— Ha'aretz
"
…The New Kosher
by Kim Kushner explores a fresher interpretation of kosher foods."
— The Colombus Dispatch
"
The New Kosher Cookbook
could just as easily be named the new cookbook, because it is written for anyone interested in quick, vibrant dishes, which we suspect is most everyone.
The kosher aspect
is there, of course, but Kushner doesn't see it as restrictive. Instead, she uses it to up the ante on creativity"
— The Daily Meal
"An inventive gourmet approach to kosher cooking, spiced up with Middle Eastern and North African influences."
— USA Today
Weldon Owen, 9781616289263, 200pp.
Publication Date: August 11, 2015
About the Author
Born in Montreal, Canada, Kim grew up in an Orthodox home, learned to cook from her Moroccan-born mother, and spent summers with family in Israel. A graduate of the Institute of Culinary Education, Kim worked as a recipe developer for Food & Wine and Chile Pepper magazines and a private chef before becoming an instructor; her classes have been sold out for the last four consecutive years. She has appeared on the Today show and been featured in The Huffington Post and The Chicago Tribune. Kim lives in New York City with her husband and three children. Her self-published first cookbook, The Modern Menu, is now in its third printing.