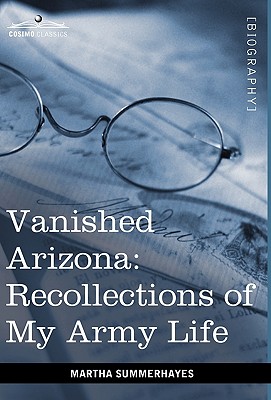 Vanished Arizona
Recollections of My Army Life
Hardcover

* Individual store prices may vary.
Other Editions of This Title:
Paperback (3/26/2017)
Paperback (7/25/2020)
Paperback (6/4/2010)
Paperback (10/14/2018)
Hardcover (10/14/2018)
Hardcover (5/24/2017)
Paperback (12/13/2005)
Hardcover (11/10/2018)
Paperback (1/20/2021)
Paperback (11/10/2018)
Paperback (5/24/2017)
Hardcover (6/7/2010)
Paperback (8/23/2017)
Hardcover (5/10/2016)
Hardcover (8/12/2015)
Hardcover, Large Print (8/18/2008)
Paperback (3/12/2017)
Paperback (11/24/2015)
Description
Martha Summerhayes was a respectable Victorian lady when she left civilized society behind, in 1874, to follow her cavalry-officer husband West, to the Wyoming Territory and then to unknown and inaccessible Arizona. Written "at the urgent and ceaseless request" of her children and first published in 1908, this compulsively readable account of her life on the frontier is a unique document of the American exploration and settling of the West, offering a little-heard woman's perspective on an historical era that continues to echo in contemporary American society. From the deprivations of her kitchen-where she has no choice but to make do with army pots and pans designed for cooking for dozens-to terrifying encounters with wildlife, attacks by Indians, and the challenge of giving birth alone, Summerhayes' indomitable spirit and sense of adventure shines through.
Cosimo Classics, 9781616402389, 374pp.
Publication Date: July 1, 2010