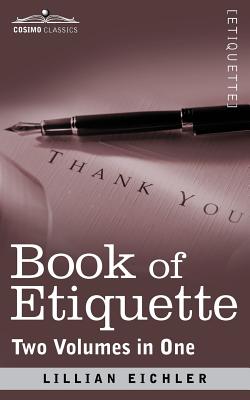 Book of Etiquette (Two Volumes in One) (Paperback)
Cosimo Classics, 9781616405694, 608pp.
Publication Date: December 1, 2011
* Individual store prices may vary.
Description
This guide to good manners was produced by Lillian Watson in 1921 as a rewrite of the Encyclopedia of Etiquette by Emily Holt. Mining her own experience as a social misfit and would-be social climber for material, it was a huge hit with those aspiring to a grander station. Originally published in two volumes, but presented here in one combined edition, The Book of Etiquette covers: - the secret of social success - engagements and weddings - the intricacies of the social call - correspondence and invitations - use of the napkin - yachting parties for bachelors - musicals and private theatricals - some important rules about golf - the charm of correct speech - and much more... The only serious competitor to Emily Post as etiquette maven to America between the wars, LILLIAN EICHLER WATSON (b. 1902) was a 19-year-old copywriter for the book publisher Doubleday when she was commissioned to rewrite the outdated Encyclopedia of Etiquette by Emily Holt.