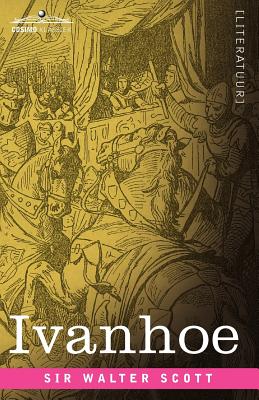 Ivanhoe
Paperback

* Individual store prices may vary.
Other Editions of This Title:
Paperback, German (9/19/2020)
Paperback (7/22/2014)
Paperback (12/14/2015)
Paperback, German (4/5/2018)
Paperback, Spanish (8/5/2020)
Paperback, Spanish (8/5/2020)
Paperback (6/21/2020)
Paperback (12/13/2015)
Paperback (3/10/2009)
Paperback (4/18/2020)
Paperback (1/18/2021)
Paperback, Spanish (12/1/1999)
Paperback (4/10/2020)
Paperback (1/1/2014)
Paperback (2/14/2017)
Paperback, Spanish (8/4/2020)
Paperback (5/8/2015)
Paperback (9/17/2020)
Paperback (10/22/2018)
Description
Ivanhoe (1819) is een historische roman, een genre dat na Walter Scott vele navolgers heeft gekend. Tegen de achtergrond van de Normandische (Franse) overheersing van Engeland maken we kennis met Ivanhoe, de 'onterfde ridder', verstoten door zijn vader omdat hij met de Normandische koning Richard (Leeuwenhart) op kruistocht is gegaan. Ivanhoe heeft liefde opgevat voor Rowena, de pleegdochter van zijn vader. Na velerlei avonturen - een riddersteekspel, een gijzeling, een godsgericht - loopt alles goed af en Ivanhoe "leefde lang en gelukkig met Rowena, want zij (...) beminden elkander te vuriger wegens de hinderpalen die hun vereeniging in de weg hadden gestaan." De vele kleurrijke personages, Wamba de nar, Cedric de Sakser, de Zwarte Ridder en zelfs Robin (Hood) van Locksley, maken Ivanhoe ook nu nog een buitengewoon sprankelende historische roman. Sir WALTER SCOTT(1771-1832)was een Schotse dichter en schrijver, bekend van zijn historische romans. Na een carriere in de advocatuur en het uitgeversvak nam zijn literaire productie aanzienlijk toe. Tijdens zijn leven werd hij al gezien als een der grootste schrijvers uit de wereldliteratuur, met bekende werken zoals The Lady of the Lake (1810), Rob Roy (1818), en Ivanhoe (1920, onderdeel van de Waverly romans).
Cosimo Klassiek, 9781616407254, 488pp.
Publication Date: December 1, 2012