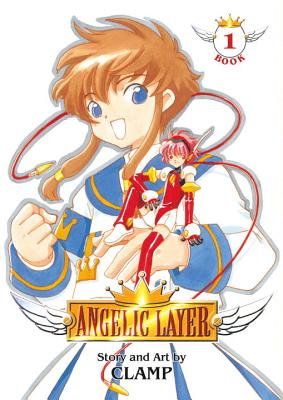 Angelic Layer Volume 1 (Paperback)
Dark Horse Manga, 9781616550219, 448pp.
Publication Date: October 2, 2012
* Individual store prices may vary.
Description
Angelic Layer is the prequel to the acclaimed Chobits series!

Junior high student Misaki Suzuhara has just arrived in Tokyo to live with her glamorous TV news star aunt and to attend the prestigious Eriol Academy. But what excites her above everything is Angelic Layer, the arena game where you control an "Angel" — a miniature robot fighter whose moves depend on your mind! Misaki's small, just like her Angel, Hikaru (named after her favorite manga, Magic Knight Rayearth), but her natural battle skills have been recognized by a very odd scientist, Ichiro "Icchan" Mihara. Before she knows it, Misaki is an up-and-coming contender in Angelic Layer . . . and in way over her not-very-tall head! How far can enthusiasm take her in an arena full of much more experienced fighters . . . and a game full of secrets?
About the Author
Clamp is an all-female Japanese manga artist group that formed in the mid-1980s. It consists of leader Nanase Ohkawa, who provides much of the storyline and screenplay for the group's works and adaptations. Clamp also includes three artists whose roles shift for each series: Mokona, Tsubaki Nekoi, and Satsuki Igarashi. Almost 100 million volumes of Clamp manga have been sold worldwide.
or
Not Currently Available for Direct Purchase