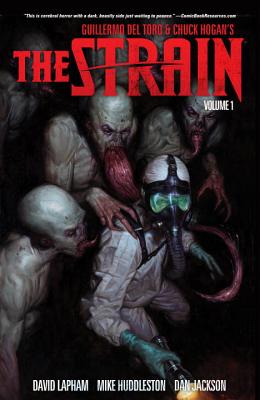 The Strain, Volume 1 (Paperback)
Dark Horse Comics, 9781616550325, 148pp.
Publication Date: November 13, 2012
Description
When a Boeing 777 lands at JFK International Airport and goes dark on the runway, the Center for Disease Control, fearing a terrorist attack, calls in Dr. Ephraim Goodweather and his team of expert biological-threat first responders. Only an elderly pawnbroker from Spanish Harlem suspects a darker purpose behind the event--an ancient threat intent on covering mankind in darkness. In one week, Manhattan will be gone. In one month, the country. In two months--the world. This horrifying first chapter introduces an outbreak of diabolical proportions that puts a terrifying twist on the vampire genre Collects issues #1 through #11.
About the Author
David Lapham is an American comic book writer, artist, and cartoonist best known for his work on the independent comic book, Stray Bullets. David Lapham started his career in 1990 as a penciller at Valiant Comics. He went on to work under editor Jim Shooter at Defiant Comics, where they cocreated Warriors of Plasm in 1993. 2009 saw the release of Dark Horse's Noir, which included Stray Bullets. The author lives in Carefree, Arizona. Mike Huddleston is a comic book artist and penciller who has worked on Hellboy, Grendel, and The Strain. Guillermo del Toro is one of the most influential filmmakers working today. Born in Mexico, del Toro has helmed some of the greatest horror films of all time time, such as The Devil's Backbone, Pan's Labyrinth, and Hellboy. Del Toro's work is often characterized as having the qualities of magical realism, with the theme and tone of his films sharing elements of our world but mixed with a number of supernatural and fairty-tale elements. In addition to his work on the screen, del Toro has also worked extensively on video-game titles. Dan Jackson is a penciller, inker, colorist, and letterer. He has worked on The Strain, Buffy, Aliens, and Call of Duty.
Advertisement