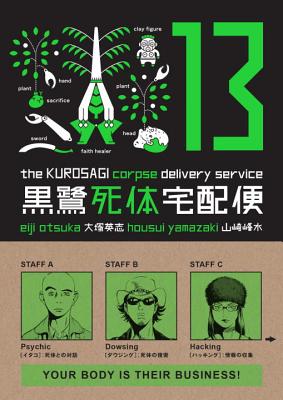 The Kurosagi Corpse Delivery Service, Volume 13 (Paperback)
Dark Horse Comics, 9781616550677, 190pp.
Publication Date: December 11, 2012
* Individual store prices may vary.
or
Not Currently Available for Direct Purchase
Description
Your body is their business Five strange young students at a Buddhist university find little call for their job skills in today's Tokyo...among the living, that is. But all that stuff in college they were told would never pay off -- you know, channeling, dowsing, ESP -- gives them a direct line to the dead...the dead who are still trapped in their corpses and can't move on to the next reincarnation. The five form the Kurosagi Corpse Delivery Service: whether suicide, murder, accident, or illness, they'll carry your body wherever it needs to go to free your soul
In Volume 13 old friends and enemies alike return as Sasaki and Karatsu step off the plane from Okinawa -- right into a gruesome scheme of zombification both traditional and technical, courtesy of the sinister Shirosagi duo Then, one man's freedom depends on Sasaki, as she's called to serve as a lay judge in Japan's unique trial system...and where the pressure is on to reach the "correct" verdict.
Advertisement