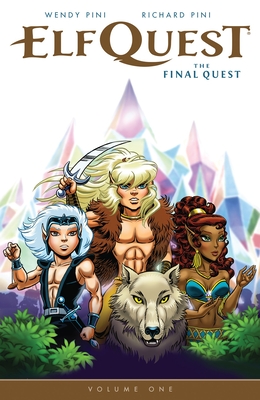 Elfquest
The Final Quest Volume 1
Paperback

* Individual store prices may vary.
Other Editions of This Title:
Paperback (7/10/2018)
Paperback (5/10/2016)
Description
For generations, the elves sought a safe haven against all who would do them harm. But the dream that Chief Cutter and his Wolfriders fought and died for, the Palace of the High Ones, may be the very thing destroying them. The skills that helped them survive the harsh world are fading, and there is a growing threat from a tyrant obsessed with exterminating all elves--creating a disastrous brew that must surely boil over.

Volume 1 collects Wendy and Richard Pini's sixty-page special and the first six issues of The Final Quest, the newest adventures of the Wolfriders!

"Even with a bit of a slowdown in pace, Wendy and Richard Pini's "Elfquest: The Final Quest" is a pleasant read. And with the setup for what's to come next time, I'm looking forward to seeing them in "60," as the old issues' letter-column liked to state things. I suspect readers who made it this far will agree." - Comic Book Resources

"Elfquest is just one of those stories that you never want to end. It's so visually pleasing, I would be totally down for a virtual game or even just a tour of the palace. So yet again, Elfquest scores a five out of five." - Comic Bastards

"Wendy Pini's art is as strong as it ever was, and we feel for the characters as they move forward in time and in their individual lives. The scripting augments the beautiful art so very well! If you're looking for some engaging fantasy, don't miss Elfquest: The Final Quest! It's something special and will pull you in from the first time you read it!" - Major Spoilers
Dark Horse Books, 9781616554095, 192pp.
Publication Date: April 14, 2015
About the Author
Wendy Pini was born Wendy Fletcher in San Francisco. Growing up on an isolated ranch in Gilroy, California, Wendy's imagination was fueled by all forms of fantasy and mythology. At an early age she began spinning her own tales of elves, monkey-gods, aliens and sorcerers. While her artistic talents were influenced by of turn-of-the-century illustrators, film and TV animation, her storytelling abilities evolved from a love of Shakespeare, Japanese history and legend, modern fantasy and the epic poetry of the Ramayana.

In 1977, a deeply personal project called Elfquest was born. As the first continuing fantasy/adventure graphic novel series in America to be co-created, written and illustrated by a woman, Elfquest became a phenomenon in the comics industry. Appealing to comics and sci-fi/fantasy fans alike, it attracted a unique and unprecedented audience, an equal mix of male and female readers. Over three million copies of the collected graphic novel volumes have been sold to date. The author lives in Los Angeles, CA.
Coverage from NPR