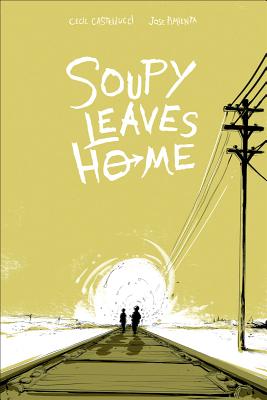 Soupy Leaves Home
Paperback

* Individual store prices may vary.
Description
Set in 1932, this is the story of two misfits with no place to call home, who build a relationship during a train hopping journey from the cold heartbreak of their eastern homes toward the sunny promise of California.

Pearl "Soupy" Plankette ran away from her abusive father, but has nowhere to go until she stumbles upon a disguise that gives her the key to a new identity. Reborn as a boy named Soupy, she hitches her star to Remy "Ramshackle" Smith, a hobo who takes her under his wing. Ramshackle's kindness and protection go a long way to help Soupy heal from her difficult past. But Ramshackle has his own demons to wrestle with, and he'll need Soupy just as much as she needs him.

"A compelling graphic offering that explores relevant gender roles and self-identity through a historical lens." – from the Kirkus Starred Review

"VERDICT A well-researched and richly illustrated runaway tale that will appeal to fans of escapist fiction and thoughtful readers."–Anna Murphy, ¬Berkeley Carroll School, Brooklyn, From the School Library Journal review, March 2017

"Soupy Leaves Home tells the story of a time no longer familiar to us—a time of living the rails and simmering Mulligan Soup, a time of chosen names and secret languages—yet a tale that anyone with a longing heart and a restless spirit can relate to. It transports you magically to a place long gone, but its tale of poverty and survival are still as relevant as they ever were—the characters may be penniless, but they are so emotionally wealthy that this book leaves you filled with warmth, hope, and love."—Gerard Way

"Castellucci's heartfelt odyssey is a reckoning with death and identity on the tracks, brought to life by Pimienta's patient, ever-evolving use of color. Soupy Leaves Home is for all restless souls hungry to start again."—Nate Powell (March, Swallow Me Whole) 

"A charming and optimistic slice of Americana."—Hope Larson (Wrinkle in Time, Batgirl)

"I love Cecil Castellucci, she is crazy and cool and full of energy and heart, and so is all of her work. And Soupy Leaves Home may be one of her finest and most effecting works yet!"—Jeff Lemire
Dark Horse Books, 9781616554316, 208pp.
Publication Date: May 2, 2017
About the Author
Cecil Castellucci is the author of books and graphic novels for young adults including Boy Proof, The Plain Janes, First Day on Earth, The Year of the Beasts, Tin Star, Stone in the Sky and the Eisner nominated Odd Duck. Her picture book, Grandma's Gloves, won the California Book Award Gold Medal. Her short stories have been published in Strange Horizons, YARN, Tor.com, and various anthologies including, Teeth, After, and Interfictions 2. She is the Children's Correspondence Coordinator for The Rumpus, a two time Macdowell Fellow and the founding YA Editor at The LA Review of Books.
In addition to writing books, she writes plays, makes movies, does performance pieces, and still occasionally rocks out. Born in New York City to French Canadian parents, she is a citizen of both America and Canada. Currently, she lives in Los Angeles. The author lives in Los Angeles, CA.
or
Not Currently Available for Direct Purchase