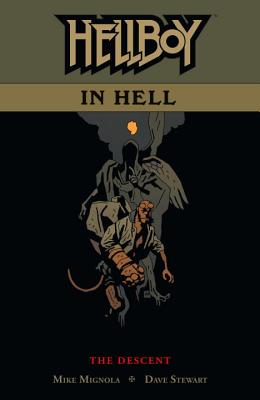 Hellboy in Hell Volume 1 (Paperback)
The Descent
Dark Horse Books, 9781616554446, 144pp.
Publication Date: June 3, 2014
* Individual store prices may vary.
Description
Hellboy creator and comics superstar Mike Mignola returns to draw Hellboy's ongoing story for the first time since Hellboy: The Conqueror Worm. It's a story only Mignola could tell, as more of Hellboy's secrets are at last revealed, in the most bizarre depiction of Hell you've ever seen! Comic Book Resources said, "Hellboy in Hell shows a master returning to his craft and exceeding reader expectations. This is a horror comic that reminds just how good both the genre and the medium can be."
About the Author
Mike Mignola was born in 1960 in Berkeley, California and grew up in nearby Oakland, the eldest son of a tough and leathery cabinetmaker. His fascination with ghosts and monsters began at an early age (he doesn't remember why) and reading Dracula at age 12 introduced him to Victorian literature and folklore from which he has never recovered.
Besides comic books, Mike worked on Francis Ford Coppola's film Bram Stoker's Dracula (1992), as a production designer for the Disney film Atlantis: The Lost Empire (2001) and was the Visual Consultant to director Guillermo del Toro on Blade II (2002), Hellboy (2004), and Hellboy 2: The Golden Army (2008).

Mike lives somewhere in Southern California with his wife, daughter and cat. The author lives in Los Angeles, CA..