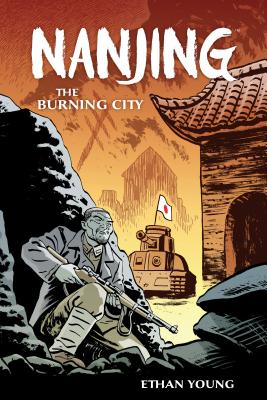 Nanjing (Hardcover)
The Burning City
Dark Horse Originals, 9781616557522, 216pp.
Publication Date: September 1, 2015
* Individual store prices may vary.
Description
2016 REUBEN AWARD WINNER - BEST GRAPHIC NOVEL! 

After the bombs fell and shook the walls of Nanjing, the Imperial Japanese Army entered and seized the Chinese capital. Through the dust of the demolished buildings, screams echo off the rubble. Two abandoned Chinese soldiers are trapped and desperately outnumbered inside the walled city. What they'll encounter will haunt them. But in the face of horror, they'll learn that resistance and bravery cannot be destroyed by the enemy.

Ethan Young (Tails) delves into World War II's forgotten tragedy, the devastating Japanese invasion of Nanjing, and tells a heart-wrenching tale of war, loss, and defiance. Beautifully illustrated in black and white.


"In Nanjing, cartoonist Ethan Young tells an intimate story against an epic landscape. Bold, heart-breaking, and gorgeously rendered." —Eisner and Printz Award-winner Gene Luen Yang (Boxers & Saints, American Born Chinese)

"Young's decision not to glorify violence or titillate the reader in any way avoids a common pitfall and heightens the drama. This is stunning, stirring historical fiction by a creator at the height of his craft." (Starred review) —Publishers Weekly

"Young's is just one chapter in an overwhelmingly grievous episode of the 20th century. The specifics might be fictional amidst a historical backdrop, but in creating names, depicting individual faces both living and dead, Young conjures a haunting microcosm amidst a horrifying event of epic proportions." —Smithsonian APAC Bookdragon

"A rugged black and white style ... a little Kubert, a little Tardi." —The Beat

"Nanjing: The Burning City deserves a spot alongside not only historical comics, but wartime prose and non-fiction as well. It's not often that an author can so skillfully evoke powerful emotion while telling a complex and long-forgotten story and this book is an excellent, necessary addition to the genre." —The A.V. Club

"Haunting and powerful, Nanjing is a moving tribute to an event which needs to be remembered, as much as we'd like to forget it." —Eisner and Harvey Award-winning author Derek Kirk Kim (Same Difference, Tune)

"Young's expressive, thoughtful line work takes full advantage of comics' power. Nanjing reads effortlessly while begging the eyes to savor each page. A triumph at the very soul of the medium, a perfect marriage of Toth and Tatsumi." —Eisner Award-winning writer/artist Nate Powell (March, Swallow Me Whole)
About the Author
Ethan Young is a prolific illustrator. His main expertise is sequential art and cartooning. Whether it's comic books or storyboards, Ethan Young brings his own unique sense of style and storytelling to every panel. Young has contributed comic book art to Dark Horse Comics, Image Comics, DNA Creative, Ardden Entertainment, Hermes Press, and Johnson & Johnson. He has also drawn and designed for advertising, video games, independent films, T-shirt designs, album covers, logos, fantasy & sci-fi illustration and much more. Young is currently the lead storyboard artist for 'The Centsables', a saturday morning cartoon on Fox Business Channel. The author lives in Ithaca, N.Y..
Praise For Nanjing: The Burning City…
Acclaimed comics creator Young (Tails: Life in Progress) has released his most ambitious project yet: an intimate look at what's known as the Rape of Nanjing: six weeks during the Second Sino-Japanese War in 1937–38, in which Japanese troops systematically tortured, sexually assaulted, and executed hundreds of thousands of Chinese soldiers and civilians. Although records of the massacre have largely been destroyed, Young draws on the best information available to tell a fictionalized account of two Chinese soldiers attempting to escape their city. Along the way, they meet several equally desperate refugees, and their destinies become intertwined. Young's black-and-white artwork is heart-wrenchingly beautiful in its depiction of countless tragedies, and his writing remains tight throughout. Most notable among the fascinating cast is Yan, a battle-hardened wife and mother who retains her agency during the infamous violence against women. Young's decision not to glorify violence or titillate the reader in any way avoids a common pitfall and heightens the drama. This is stunning, stirring historical fiction by a creator at the height of his craft. (Sept.)" -Publishers Weekly (Starred review)

"In Nanjing, cartoonist Ethan Young tells an intimate story against an epic landscape. Bold, heart-breaking, and gorgeously rendered." -Eisner and Printz Award-winner Gene Luen Yang (Boxers & Saints, American Born Chinese)

"Haunting and powerful, Nanjing is a moving tribute to an event which needs to be remembered as much as we'd like to forget it."-Eisner and Harvey Award-winning creator Derek Kirk Kim (Prime Baby, Same Difference and Other Stories)