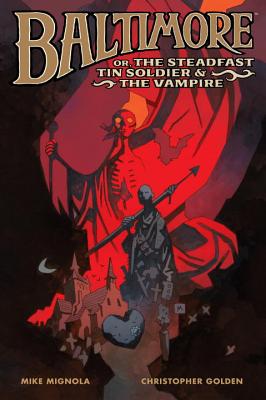 Baltimore, or The Steadfast Tin Soldier & the Vampire
Paperback

* Individual store prices may vary.
Other Editions of This Title:
Hardcover (8/28/2007)
Description
When Lord Baltimore awakens the wrath of a powerful vampire on the hellish battlefields of World War I, the world is forever changed. For a deadly plague has been unleashed--one that even death cannot end.

This title is a collection of Baltimore, or The Steadfast Tin Soldier & the Vampire illustrated prose novel and the Baltimore: The Widow and the Tank one-shot.
Praise For Baltimore, or The Steadfast Tin Soldier & the Vampire…
Reviews from a previous edition of Baltimore, or The Steadfast Tin Soldier & the Vampire:


From Publishers Weekly
Mignola (HellBoy) and Golden (The Myth Hunters) create a haunting allegory on the nature of war, fusing the poignancy of Hans Christian Anderson's The Steadfast Tin Soldier, the supernatural chills of Dracula and the horrors of WWI and the subsequent influenza epidemic. Years after Capt. (and Lord) Henry Baltimore is infected by a demonic vampire bat while wounded near the Ardennes forest, he summons three friends to a mysterious meeting. Demetrius Aischros is the merchant sea captain who had taken Baltimore home to Trevelyan Isle, where they found Baltimore's family dead and his wife resurrected as a vampire. Thomas Childress Jr. is a nobleman and deserter who learns about the vampire infestation from Baltimore, his childhood friend. Dr. Lemuel Rose is the surgeon who treated Baltimore's war injuries. Together they help Baltimore face a final showdown with the terrible Red King. Stark monochrome illustrations from Mignola enhance this dramatic tale of war and fear. (Sept.) 
Copyright © Reed Business Information, a division of Reed Elsevier Inc. All rights reserved.


From Booklist
*Starred Review* Lord Henry Baltimore lies wounded in no-man's-land on World War I's western front. As the carrion eaters come to feast, the injured soldier sees an impossibility—the dead eating the dead. But the ravening monstrosity comes to him, further mangles his wounded leg, and claims Lord Henry as his enemy. Lord Henry realizes that a virulent plague that only he now knows about is hiding among the other plagues of the time. The vampire—for that is what the battlefield monster is—destroys his family, but Baltimore maintains steadfast pursuit of it. He summons three friends also experienced with the supernatural to await him at an old inn. They tell one another of their first meetings with Lord Henry, thereby disclosing what the vampire has inflicted on the peer since the incident on the western front. Lord Henry arrives with what is necessary to finally banish the vampiric plague. Even after a fight to near death, some damage cannot be healed. Prolific dark fantasist Golden's popular style is impeccable, and horror comics creator Mignola's copious illustrations confirm the tale's dark atmosphere throughout, from no-man's-land to the old inn to the houses and graveyards where the vampire is encountered. A new classic of vampire literature. Murray, Frieda


Review
"Final word: Mignola's stark black-and-white illustrations are an excellent complement to Golden's words in that rarest of supernatural novels: an original vampire tale."—Rocky Mountain News


"Baltimore is an old time rootin' tootin' sense of wonder story dragged through a modern blender, then slow baked in hell. I loved it. It was velvet bullet—speedy and rich in sensation. Go boys, go."—Joe R. Lansdale


"With Baltimore, Mike Mignola and Christopher Golden lay siege to the reader's imagination with a grim battalion of gothic images and a thunderous barrage of narrative artillery. This is not a novel: it's a war machine. Surrender immediately."—Joe Hill, author of Heart-Shapped Box


"I have admired Mike Mignola both as an artist and as a tremendous story teller pretty much since his career began. In this collaboration with Christopher Golden, it's fair to say he surpasses himself. He and Golden have produced a witty classic of supernatural fiction."—Michael Moorcock, bestselling author of The Elric Saga


"Co-authors Mike Mignola and Christopher Golden brilliantly cross the evocative dread of early supernatural writers Algernon Blackwood and Ambrose Bierce with the inventive, in-your-face horror of contemporary counterparts Stephen King and Bentley Little."–Omaha World Herald


"A haunting allegory on the nature of war.... Stark monochromatic illustrations from Mignola enhance this dramatic tale of war and fear."—Publishers Weekly


"Outstanding.... Mike Mignola's outstanding black-and-white illustrations turn the book into a beautiful object and add to its overall storybook quality. He and Golden have outdone themselves with Baltimore, a gorgeous, haunting tale that may well become a classic."—Fangoria
Dark Horse Books, 9781616558031, 288pp.
Publication Date: July 14, 2015
About the Author
Mike Mignola began his career in 1980 by illustrating spots in the Comic Reader. He began inking in August of 1983 for Marvel Comics including Daredevil and Power Man & Iron Fist. Mignola is particularly noted for his highly distinctive style, which was once called "German expressionism meets Jack Kirby" by Alan Moore, in an introduction to a Hellboy collection. While Mignola has heavily influenced a new generation of comics artists since he began working on Hellboy, he was something of an odd man out in the superhero comics industry in the beginning of his career. Mignola's imagery stood in stark contrast to the style of his contemporaries. Where others would draw muscular men and slim, well-endowed women, Mignola's characters were usually bulky and rough-looking, and more often than not defined by large shadowed areas rather than fine details. Hellboy was made into a feature film in 2004 by director Guillermo del Toro. Mignola was closely involved with the movie's production. Hellboy also has been made into two direct-to-video animated films, Sword of Storms and Blood and Iron in 2007. The author lives in Los Angeles, CA.
or
Not Currently Available for Direct Purchase