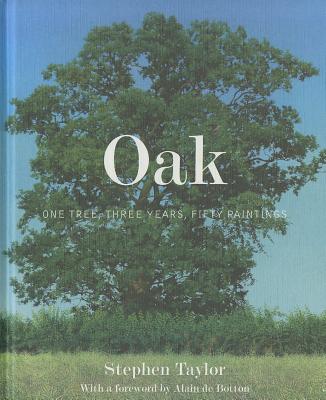 Oak
Hardcover

* Individual store prices may vary.
Description
It was an exercise to learn how to see, to understand just one thing in its greatest detail. Stephen Taylor came across the 250-year-old tree while on a walk in Essex, England, six years ago, shortly after the deaths of his mother and close friend a tragic time that brought him back to painting and then to an obsession with realism and color perception. He painted the same oak scores of times over a period of three years, in extremes of weather and light, at all times of day and night. Oak is nature's creed of endurance (the tree was standing when Jane Austen was just a baby) and of one man's promise to find beauty in a painful world.
Praise For Oak…
"His is a story that is uplifting in its universal ethos that you do what you know, and you make all that you can of it. Now, five years after Taylor packed up his easel and left the field for the last time, a book has been published of 50 of his paintings from that time. Entitled simply Oak, it is full of analysis of sunlight and shadow, of gradients of paint and how the eye plays tricks on the mind. It is the diary of an artisan, obsessive in its chronicling of technique and the thought processes that led to the final image." --Huffington Post

"Some books show you how to laugh, some show you how to think, but, every once a while, one will show you how to live. The exquisite Oak: One Tree, Three Years, and Fifty Paintings follows of the story of artist Stephen Taylor who decided to paint the same oak tree in the English countryside every day for three years.... As the oak changes by the month or hour, the surrounding environment changes.... A singular plant becomes a talisman for the passage of time and seasons--and you, as viewer--begin to change too, becoming more observant and aware of the tiny yet enormous natural transformations that take place each day and minute. Seeing--in the truest sense--is the lesson here, one that's taught with such elegance that you'll be bewitched into stopping and contemplating the birch or maple in your own yard that's serving--as T.S. Elliot once described trees--as 'the still point of the turning world.'" --Oprah.com

"Taylor's words make you stop and linger over each painting and make you study the relationship the oak tree has with neighboring elements. It doesn't take long before you are able to feel the light Taylor painted, hear the crunch of his leaves, and hear the sound of wheat brushing up against his legs." -- ArtPlantae Today
Princeton Architectural Press, 9781616890322, 112pp.
Publication Date: October 19, 2011
or
Not Currently Available for Direct Purchase