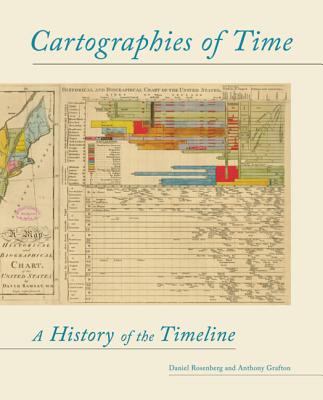 Cartographies of Time
A History of the Timeline
Paperback

* Individual store prices may vary.
Description
Now in Paperback! What does history look like? How do you draw time? Cartographies of Time is the first history of the timeline, written engagingly and with incredible visuals. The authors, both accomplished writers and historians, sketch the shifting field of graphic representations of history from the beginning of the print age through the present. They shed light on western views of history and on the complex relationship between general ideas about the course of events and the technical efforts to record and connect dates and names in the past. In addition to telling a rich, forgotten story, this book serves as a kind of grammar of historical representation, uncovering the ways in which time has been structured in thought and in images, in the Western tradition. Written for both the academically curious and the general reader, Cartographies of Time provides a set of tools for understanding the evolution and the significance of graphic representations of time both in history and in contemporary culture.
Praise For Cartographies of Time: A History of the Timeline…
"Narrow enough in topic for casual reading, deep enough for serious contemplation,?Cartographies of Time?deserves endless-and by no means strictly linear-dallying. It is worth picking up and putting down, moving through backward and forward, opening up in the middle, and reading straight through. However loopy your course through?Cartographies, your time perusing will be time well spent."
- MAKE Magazine

"Not all maps get us from A to Z; many chart decades of progress and centuries of change. This is a lavish guide to what makes us human, a sprawling, predominantly hand-drawn collection of infographics showing lyrical and linear ways to mark everything from the development of biblical thought to the spread of empires and the mapping of human sensation. Joseph Priestley's timelines of history and biography anchor themselves firmly in the middle." -- The Guardian (UK)
Princeton Architectural Press, 9781616890582, 272pp.
Publication Date: February 1, 2012