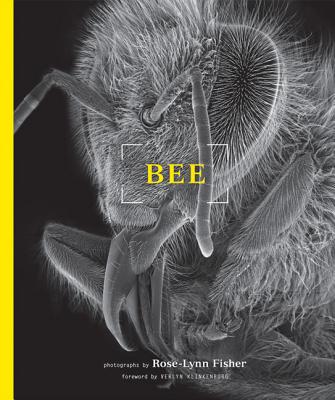 Bee
Paperback

* Individual store prices may vary.
Description
Of the ten million or so different species of insects on our planet, none is more fascinating than the honeybee. Magnified hundreds to thousands of times with a high resolution scanning electron microscope, honeybees become architectural masterpieces an elegant fusion of form and function. Now available in paperback, Bee presents sixty astonishing photographs of honeybee anatomy in magnifications ranging from 10x to 5000x. Rendered in stunning detail, these photographs uncover the strange beauty of the honeybee's pattern, form, and structure. Comprising 6,900 hexagonal lenses, their eyes resemble the structure of a honeycomb. The bee's six-legged exoskeleton is fuzzy with hairs that build up a static charge as it flies in order to electrically attract pollen. Wings clasp together with tiny hooks, and a double-edged stinger resembles a serrated hypodermic needle. These visual discoveries, made otherworldly through photographer Rose-Lynn Fisher's lens, expand the boundaries of our thinking about the natural world and stimulate our imaginations.
Praise For Bee…
"BEE is another kind of book altogether- a work of art celebrating science, or science celebrated in art." -- American Bee Journal

From photographer Rose-Lynn Fisher comes BEE - an incredibly artful, thoughtful exploration of the beautiful complexity of bees and the larger natural patterns it bespeaks. Fisher blends the immaculate scientific precision of electron microscope imaging with the aesthetic sensibility of art photography to produce 128 pages of breathtaking revelation that expands the boundaries of how we think about these remarkable creatures and nature at large. BEE is without a doubt one of the most visually stunning, conceptually ambitious photography books of the year. - Brainpickings.org

"As Verlyn Klinkenborg writes in his introduction to Fisher's book, Bee, 'there's nothing general about a honeybee'-and her photographs bear that out." -- LightBox, Time magazine

"Princeton Architectural Press has done it again, producing a book that is as beautiful and tactile as it is thought-provoking and educational." -- Make magazine

The images in Bee are the kind of machine-made line work Durer himself would've envied, infusing tiny creatures and surfaces with the depth, insight and majesty they deserve. -- Discover.com
Princeton Architectural Press, 9781616890766, 128pp.
Publication Date: March 28, 2012
About the Author
Rose-Lynn Fisher is an artist working in photography and mixed-media. She has a bachelor of fine arts from Otis College of Art and Design.