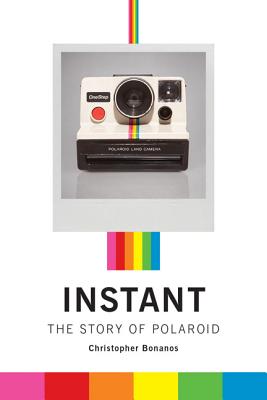 Instant
The Story of Polaroid
Hardcover

* Individual store prices may vary.
Description
"Instant photography at the push of a button!" During the 1960s and '70s, Polaroid was the coolest technology company on earth. Like Apple, it was an innovation machine that cranked out one must-have product after another. Led by its own visionary genius founder, Edwin Land, Polaroid grew from a 1937 garage start-up into a billion-dollar pop-culture phenomenon. Instant tells the remarkable tale of Land's one-of-a-kind invention-from Polaroid's first instant camera to hit the market in 1948, to its meteoric rise in popularity and adoption by artists such as Ansel Adams, Andy Warhol, and Chuck Close, to the company's dramatic decline into bankruptcy in the late '90s and its unlikely resurrection in the digital age. Instant is both an inspiring tale of American ingenuity and a cautionary business tale about the perils of companies that lose their creative edge.
Praise For Instant: The Story of Polaroid…
"When I was little, long before personal computers, let alone Instagram-enabled digital camera-phones, Arthur C. Clarke wrote that advanced technology is indistinguishable from magic. By far the most uncanny, sexy, insanely great piece of technological magic in our household was my parents' Polaroid. Chris Bonanos' smart, thoughtful, charming chronicle of that iconic invention and its remarkable inventor is a delight." -- Kurt Andersen, author of True Believers and Heyday, host of public radio's Studio 360

"Edwin Land was one of Steve Jobs's first heroes, and this book shows why. He created a startup in a garage that grew into a company that stood at the intersection of creativity and technology. This is a fascinating saga, both inspiring and cautionary, about innovation and visionary leadership." -- Walter Isaacson, author of Steve Jobs

"Christopher Bonanos tells Polaroid's story with fluid, energetic prose that mirrors the thrilling arc of the company's story, twining together technology, fine art, business, design and pop culture into a 175-page powerhouse. Whether you pick it up because you loved your old Polaroid camera or because you want to find out why Steve Jobs modeled Apple after the Polaroid company, you'll be delighted by this pithy snapshot of a true American icon." -- NPR.org

"This cultural history of the eccentric camera company-which has fair claim to being the Apple of the '60s-is simultaneously breezy and deeply researched, making it the perfect compulsive reading for design enthusiasts and Instagram addicts alike." -- Details.com

"Tells the story of the forgotten genius who turned Polaroid into a cultural phenomenon." -- Washington Post

"A fascinating tale of rapid rise, catastrophic collapse, and the riveting ride between the two, at once told like never before and strangely familiar in its allegorical quality... brimming with lessons for modern tech mavericks." -- Brain Pickings

"Reading Instant: The Story of Polaroid by Christopher Bonanos rekindled memories of Polaroid cameras for me. And I think it will do the same for legions of others who were also mesmerized back in the day by this cool gizmo, one of America's greatest inventions." -- San Jose Mercury News

"Instant: The Story of Polaroid clocks in at a slim 192 pages, but it manages to be three books in one: a thoroughly charming, fact-filled stroll through the life and times of Edwin Land and the incredible company he built; a brief, poignant recap of Polaroid's plunge from the heights into not one but two wrenching bankruptcies; and a small but lovely collection of Polaroid images taken by well-known artists. Christopher Bonanos's well-researched and well-written book features a terrific Andy Warhol photo of Liza Minnelli, self-portraits by Chuck Close and Robert Mapplethorpe, and a David Hockney collage, along with photos by Walker Evans, Andre Kertesz, and William Wegman. It also includes several photos by Ansel Adams, who signed on as a $100-a-month Polaroid consultant in 1949, when the company made its first move into photography." -- Fortune.com

"A sympathetic and beautifully told history of Polaroid and Edwin Land, the visionary who was the company's founder and presiding genius. It is the rare design-subject book with a truly dramatic arc, and storytelling that lives up to it." -- Design Observer
Princeton Architectural Press, 9781616890858, 192pp.
Publication Date: September 26, 2012
About the Author
Christopher Bonanos is a senior editor at New York magazine.