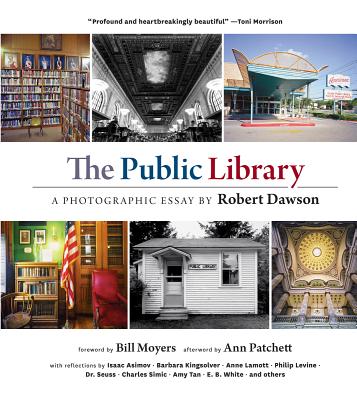 The Public Library (Hardcover)
A Photographic Essay
Princeton Architectural Press, 9781616892173, 192pp.
Publication Date: April 8, 2014
* Individual store prices may vary.
Description
A gorgeous visual celebration of America's public libraries including 150 photos, plus essays by Bill Moyers, Ann Patchett, Anne Lamott, Amy Tan, Barbara Kingsolver, and many more.

Many of us have vivid recollections of childhood visits to a public library: the unmistakable musty scent, the excitement of checking out a stack of newly discovered books. Today, the more than 17,000 libraries in America also function as de facto community centers offering free access to the internet, job-hunting assistance, or a warm place to take shelter. And yet, across the country, cities large and small are closing public libraries or curtailing their hours of operation. Over the last eighteen years, photographer Robert Dawson has crisscrossed the country documenting hundreds of these endangered institutions. The Public Library presents a wide selection of Dawson's photographs— from the majestic reading room at the New York Public Library to Allensworth, California's one-room Tulare County Free Library built by former slaves. Accompanying Dawson's revealing photographs are essays, letters, and poetry by some of America's most celebrated writers. A foreword by Bill Moyers and an afterword by Ann Patchett bookend this important survey of a treasured American institution.
About the Author
Robert Dawson's photographs have been recognized by a Fellowship from the National Endowment for the Arts and the Dorothea Lange-Paul Taylor Prize. He is an instructor of photography at San Jose State University and Stanford University.
Praise For The Public Library: A Photographic Essay…
"A book for anyone with a deep and abiding love of libraries. Dawson's latest project is a powerful argument for the continued relevance of our public libraries as information and community centers, even as libraries adapt to changing technological and budgetary landscapes." - Library Journal

"This beautifully crafted book celebrates public libraries across the U.S. in both color and black and white images captured by photographer Dawson over an 18-year period. Artfully arranged in such chapters as 'Civic Memory and Identity' and 'Literature and Learning,' the book includes a foreword by Bill Moyers and an afterword by Ann Patchett.. Dawson goes beyond the physical structures and touches on how viscerally and nostalgically Americans feel about public libraries, and suggests that, as a culture, we depend on them more than we know." - Publishers Weekly

"The Public Library is absolutely wonderful in its entirety, at once an ode to the glory of our most democratic institutions and a culturally necessary prompt to defend them like we would defend our freedom to live, learn, and be-a freedom to which the library is our highest celebration." - Brain Pickings

"Rich imagery of libraries across the national and cultural map, from cherished landmarks of the heartland to a Death Valley trailer parked in shade to lessen the heat. Add thoughtful text from the likes of Barbara Kingsolver to Amy Tan, and Dawson's subject goes beyond buildings to celebrate the civic realm." - San Francisco Chronicle

"If you think all public libraries look pretty much the same, well, you need to take a look at this book. Oh, sure, there are plenty of grand ones, such as Philadelphia's own Central Library on the Parkway. But we also have the Fishtown Community Branch, featured in this volume, which used to be a firehouse and, before that, a stable. There's also the log cabin library in Cable, Wis. And many, many more, both grand and humble." - Philadelphia Inquirer

"For book lovers, library denizens, and fans of architecture or Americana, The Public Library is a delight." - The Christian Science Monitor

"Dawson's project makes a powerful case for how public libraries serve communities in every corner of the country." - The New Yorker's Page Turner blog

"This collection of photographs and texts of and about libraries--grand or dead, faded or sumptuous--make up a narrative that combines the public sphere with private memory. Robert Dawson's work is an irrefutable argument for the preservation of public libraries. His book is profound and heartbreakingly beautiful." -- Toni Morrison
Coverage from NPR
or
Not Currently Available for Direct Purchase