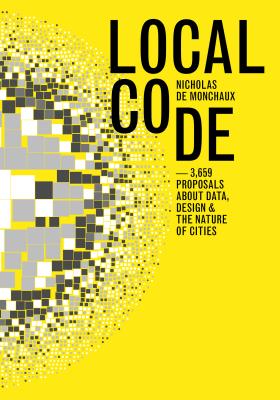 Local Code
3659 Proposals About Data, Design, and the Nature of Cities
Paperback

* Individual store prices may vary.
Description
With three billion more humans projected to be living in cities by 2050, all design is increasingly urban design. And with as much data now produced every day as was produced in all of human history to the year 2007, all architecture is increasingly information architecture. Praised in the New York Times for its "intelligent enquiry and actionable theorizing," Local Code is a collection of data-driven tools and design prototypes for understanding and transforming the physical, social, and ecological resilience of cities.

The book's data-driven layout arranges drawings of 3,659 digitally-tailored interventions for vacant public land in San Francisco, Los Angeles, New York City, and Venice, Italy. Between these illustrated case studies, critical essays present surprising and essential links between such designs and the seminal work of urbanist Jane Jacobs, artist Gordon Matta-Clark, and digital mapping pioneer Howard Fisher, along with the developing science of urban nature and complexity. In text and image, Local Code presents a digitally prolific, open-ended approach to urban resilience and social and environmental justice; At once analytic and visionary, it pioneers a new field of enquiry and action at the meeting of big data and the expanding city.
Praise For Local Code: 3659 Proposals About Data, Design, and the Nature of Cities…
"As our ability to quantify and track the urban experience grows, data increasingly asserts itself as the lingua franca of planning and municipal administration. Local Code brings the point home with a volume of beautifully designed and densely packed data visualizations revealing the complexity of urban dynamics." —Metropolis

"In Local Code, Nicholas de Monchaux pushes us to assign new value to forgotten pieces of our urban fabric - the dead-end alley, the vacant corner lot; infrastructure's leftovers. While many cities deem vacant parcels as unusable remnants of development, Local Code makes the case for aggregating them to build urban resilience..Ultimately, Local Code encourages us to read between the lines, or buildings, and see new opportunities in forgotten spaces." - The Dirt (American Society of Landscape Architects)
Princeton Architectural Press, 9781616893804, 176pp.
Publication Date: October 11, 2016
About the Author
Nicholas de Monchaux is Associate Professor of Architecture and Urban Design at UC Berkeley. He is the author of Spacesuit: Fashioning Apollo, winner of the Eugene Emme award from the American Astronautical Society and shortlisted for the Art Book Prize. His design work has been exhibited widely, including at the 2010 Biennial of the Americas, the 2012 Venice Architecture Biennale, and San Francisco's SFMOMA. A recipient of the 2013-2014 Rome Prize, he has received additional fellowships from the Macdowell Colony, Hellman Family Fund, Santa Fe Institute, Smithsonian Institution, and Van Alen Institute.