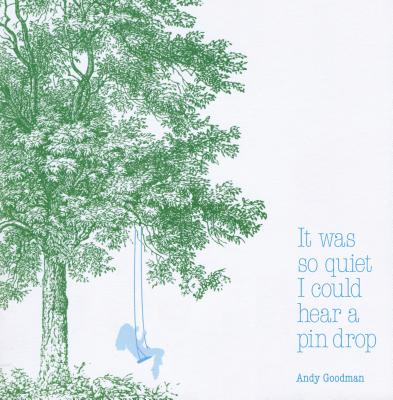 It was so quiet I could hear a pin drop (Hardcover)
Princeton Architectural Press, 9781616894801, 34pp.
Publication Date: May 17, 2016
* Individual store prices may vary.
Description
The whimsical but simple illustrations of British designer Andy Goodman invite young readers to listen as well as read aloud, hearing and making engaging sounds along the way. From quiet kites fluttering to elephants stampeding, It was so quiet I could hear a pin drop is sure to engage a toddler many times over with its fanciful flight of adventure and crescendo of sounds.
About the Author
Andy Goodman is the co-partner of Fivebargate Design Studio based in Bath, UK. He is the author of My aunt had one but she gave it away (Corraini 2012), and has designed books for Harper Collins, and Total Content. He lives in Bath, UK.
Praise For It was so quiet I could hear a pin drop…
"A child listens closely to the breeze as sounds evoke images and imaginings. Under a great tree, a child pictured only as a pale-blue silhouette swings. Across the sky images float by: a weathervane, feathers, a bright balloon—making the wind tangible. As the story progresses, Goodman plays with perspective, shrinking the child and tree until sounds take center stage…. A clever concept, in both progression and design." —Kirkus Reviews

"A mostly visual experience that ties images to sounds. It is so quiet that the narrator can hear all the things that are pictured: a fluttering kite, a buzzing bee, and a ticking wristwatch. But soon the sounds become louder…a baby cries and someone sings in the bath. Sounds appear that are louder still…stampeding elephants and the roar of a locomotive give the narrator pause. Could it all have been a dream?" —School Library Journal

"The first pale pages of It Was So Quiet I Could Hear a Pin Drop invite children to conjure faint sounds, such as the buzz of a bee or the drip of a tap. Things get louder, though, as we move through this stylish picture book…." —Wall Street Journal

"A stylish reminder of the casual pleasures of noticing one's surroundings, as well as letting one's imagination run a bit wild." —Publishers Weekly
or
Not Currently Available for Direct Purchase