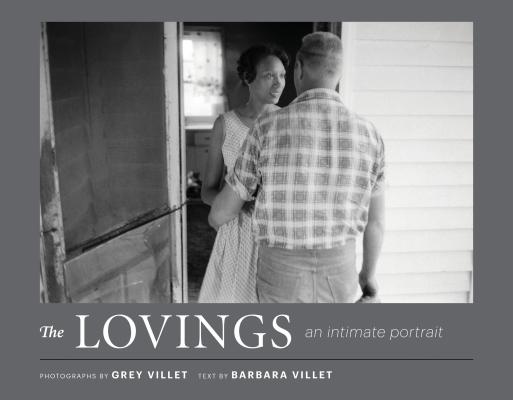 The Lovings
An Intimate Portrait
Hardcover

* Individual store prices may vary.
Description
The Lovings: An Intimate Portrait documents the extraordinary love story of Mildred and Richard Loving. The Lovings presents Grey Villet's stunning photo-essay in its entirety for the first time and reveals with striking intensity and clarity the powerful bond of a couple that helped change history.

Mildred, a woman of African American and Native American descent and Richard, a white man, were arrested in July 1958 for the crime of interracial marriage, prohibited under Virginia state law. Exiled to Washington, DC, they fought to bring their case to the US Supreme Court. Knowledge of their struggle spread across the nation, and in the spring of 1965, the Life magazine photojournalist Villet spent a few weeks documenting the Lovings and their family and friends as they went about their lives in the midst of their trial. Loving v. Virginia was the landmark US civil rights case that, in a unanimous decision, ultimately ended the prohibition of interracial marriage in 1967.
Praise For The Lovings: An Intimate Portrait…
"The photo-essay, seen for the first time in its entirety here, is a landmark in photography's history. The 50 images show how Villet did not embroil himself in the legal tangles but captured what was the heart of the case: two people in love wanting an ordinary life. Demonstrating how photography does have the power to help change things, this is an intense depiction of a couple that altered history." - Black + White Phototography Magazine

"Barbara Villet, Grey's wife and former Life journalist and editor, has done a masterly job of organizing these fine images and weaving a touching portrait of the Lovings. This powerful book will appeal to photographers and anyone interested in American social and cultural history." - Library Journal

"Villet's photos are quietly resilient as they capture an ordinary couple's everyday moments -- the kinds of moments that others were allowed to experience without scrutiny. The photo essay appears in its entirety for the first time in this book, with text by Barbara Villet providing context and chronology. But the real power is in the images and the love story they tell." - Photographer's Forum magazine

"Intimate photographs of the real life interracial couple who inspired Oscar nominated movie Loving demonstrate the powerful bond between them that helped change history. The beautiful images featured in new book, The Lovings: An Intimate Portrait, were taken as the couple fought a landmark US civil rights case to overturn a law prohibiting interracial marriage." - Mirror

"As a photojournalistic project it works wonderfully and should be on your reading list if you have even a cursory interest in the genre." - Amateur Photographer

"Taken in the context of today, when civil liberties are sadly still under siege, Grey Villet's photos of the Lovings are a powerful reminder of the individuals impacted by discriminatory and unjust policy." - Fast Co. Design

"In July 1958, Mildred and Richard Loving were arrested for interracial marriage, then a crime in their home state of Virginia. Life photographer Grey Villet spent a few weeks with them, two years before their case brought down the law." - The Guardian

"Through black-and-white images, the photographer captures the subtle glances, spurts of laughter and moments of quiet determination that, together, comprise a love story whose power echoes today." - The Huffington Post

"The book offers an intimate look at their life at a particular moment, mid-way through the drama of their story." - Photo District News
Princeton Architectural Press, 9781616895563, 128pp.
Publication Date: February 14, 2017
About the Author
Barbara Villet is an author and journalist who was a photo editor at Life and collaborated on many of Mr. Villet's projects.

Grey Villet (1927–2000) was a celebrated, award-winning photojournalist for Life magazine. Throughout his career, he shot for publications in his native South Africa, England, and the United States, covering breaking news, sports, presidential politics, and entertainment, and documenting the midcentury conflicts of the American South, Cuba, and the Middle East.

One of photojournalism's most distinguished practitioners, Pulitzer Prize winner Stephen Crowley of the New York Times credits the influence of a Grey Villet Life essay with his decision, at age nine, to become a photographer.
or
Not Currently Available for Direct Purchase