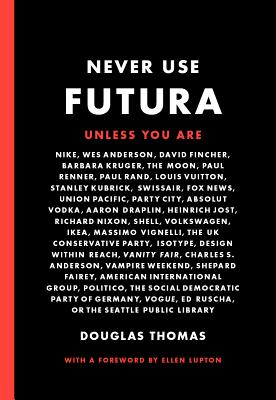 Never Use Futura (The history of a typeface)
Paperback

* Individual store prices may vary.
Description
It's everywhere, including the moon (on the commemorative plaque left by Apollo 11 astronauts), Nike sneakers, the artworks of Barbara Kruger, Ed Ruscha, and Jenny Holzer, 2001: A Space Odyssey credits, Domino's Pizza boxes, Absolut Vodka bottles, and Red Bull cans. Futura and its typographic offspring have been the face of presidential campaigns from Richard Nixon to Hillary Clinton. Indeed, Futura is one of the most used fonts in the world today—the typeface of modern design—more so even than Helvetica. This fascinating book explores the cultural history and uses of a face that's so common you might not notice, until you start looking, and then you can't escape it. Douglas Thomas traces Futura from its Bauhaus-inspired origin in Paul Renner's 1924 design, to its current role as the go-to choice for corporate work, logos, motion pictures, and advertisements. Never Use Futura is illuminating, sometimes playful, reading, not just for type nerds, but for anyone interested in how typefaces are used, take on meaning, and become a language of their own.
Praise For Never Use Futura (The history of a typeface)…
"Thomas offers a thoroughly researched, exhaustively documented story of a typeface that is so ubiquitous that to remove it would be to erase much of what today's world looks like. The book is extremely readable, with a breezy style and an almost gossipy, "did you know" tone. The book would be a terrific source of information for graduate students who want a semiotic analysis of a style or genre, or a researcher wanting to trace the influence of a particular motif through various iterations. Thomas does just that with his recounting of artist Barbara Kruger's use of a 1946 movie poster for her style standards and then the appropriation of Kruger by others, including the fashion brand Supreme. Never before has font design moved so prominently into the psyche of the common person. This book both reflects and accelerates that trend."
- Choice

"It tells a smart, incisive story about the way one typeface became woven into our cultural sentiments and movements."
- Design Observer

"Futura's ubiquity makes Never Use Futura an essential handbook on the way the modern world looks and how we read its words."
- PopMatters

"Anyone who loved "Helvetica" will enjoy this look at the history and widespread use of the typeface Futura, which you won't be able to stop noticing after you've read Douglas Thomas's excellent book."
- Fast Company's Co.Design

"This engaging new book by Douglas Thomas, a graphic designer and historian, is a biography of the typeface that explores what its wide usage means and why it is so popular."
- Architecture Boston magazine

"Never Use Futura is well written, entertaining, and informative."
- Technical Communication

"The result is a contemporary lens upon the face, showing its application in film titles and interior motifs for Wes Andersen, campaign buttons for Richard Nixon and artwork by Barbara Kruger. Must read." - The Daily Heller/Printmag.com

"Never Use Futura, by Douglas Thomas, is an incredibly thorough exploration and investigation of Futura, a bold alternative to the perhaps equally popular (and equally divisive) Helvetica. In short, it puts Futura in social and historical context. Aside from being quite fascinating in subject, I found the design and layout to be absolutely beautiful - another reason why Never Use Futura is easy to pick up and surprisingly hard to put down."
- Typo-Graphical
Princeton Architectural Press, 9781616895723, 208pp.
Publication Date: October 17, 2017
About the Author
Douglas Thomas is a graphic designer, writer, and historian. He holds an MA in history from the University of Chicago and an MFA in graphic design from the Maryland Institute College of Art, where he also taught. He currently teaches at Brigham Young University. His design work has been featured in Communication Arts, Print magazine, and Graphis.