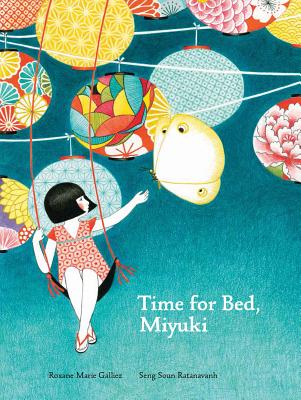 Time for Bed, Miyuki
Hardcover

* Individual store prices may vary.
Description
Like children everywhere, Miyuki's imagination peaks at bedtime, when she remembers all the things she has to do before she can possibly go to bed: she needs to water the vegetables, gather snails, and prepare for the arrival of the Dragonfly Queen. Her patient grandfather follows along on her adventures, gently encouraging her to go to sleep. In this beautiful story about family, nature, and love, young children and their parents find a welcome companion for their own bedtime journey.
Praise For Time for Bed, Miyuki…
"Celebrating the loving care of nature, the indulgent feeding of a child's imagination and the unbreakable bonds of family, Time for Bed, Miyuki is sure to inspire sweet dreams."
-Shelf Awareness

Outstanding Merit, Bank Street Best Children's Books of the Year


"Time for Bed, Miyuki is a visually stimulating book that suspends time for just a few moments. It prolongs the routine bedtime ritual, morphing it from mundane habit into festive and pleasant inspiration. Time for Bed, Miyuki contains the type of rich and vibrant pretend play-life one hopes is inherent in every child."
-NY Journal of Books

"The striking artwork brings Miyuki's imagination to life with wondrous, bright colors that curiously set a dreamy stage for this gorgeous bedtime story that also highlights intergenerational family bonds."
- The Children's Book Review

"Roxane Marie Galliez and Seng Soun Ratanavanh's gentle, gloriously colorful and imaginative Time for Bed, Miyuki also deals with cycles - the cycles a child might pass through on her way to sleep. While this is a bedtime book, it also honors the schedules children set for themselves before bed. Miyuki's grandfather, wise and patient, allows Miyuki time for her own rituals of readying body and mind. He confirms his granddaughter's agenda, rather than supplanting it with his own. Together they gather the snails, prepare for the Dragonfly Queen's arrival with water carrots, turnips and radishes, cover the cats in a cozy blanket, dance, bathe and of course, most important, enjoy a bedtime story." - The New York Times Book Review

"Illustrator Seng Soun Ratanavanh's art and palette are some sort of wonderful otherworldly dream. Time for Bed, Miyuki is an enchanting, poetic tale to settle down with at the end of the day. One of our favorites published this year."
-Avery & Augustine

"Eye-catching, detailed artwork illuminates a sweet story about a girl, her grandfather, and an elusive bedtime. Natural elements such as the sun, flowers, a nightingale, and more appear in watercolor-and-colored-pencil illustrations full of fine, luminous details that immerse readers in their world. Clever readers will appreciate the story within a story and imagine what they might do in Miyuki's shoes. A gentle story about bedtime that sweetly captures the importance of nature, family, and childhood in Japanese culture."
- Kirkus Reviews
Princeton Architectural Press, 9781616897055
Publication Date: September 18, 2018
About the Author
Roxane Marie Galliez is a prize-winning writer, poet, and children's book author. She has a doctorate in the history of ancient civilizations and traveled the Pacific Islands for several years as a researcher and journalist. She lives near Saint-Etienne, France.

A graduate of the School of Fine Arts in Paris, Seng Soun Ratanavanh is an illustrator and painter based near Paris, France.