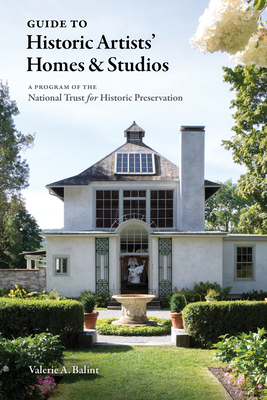 Guide to Historic Artists' Homes & Studios
Paperback

* Individual store prices may vary.
Description
From the desert vistas of Georgia O'Keeffe's New Mexico ranch to Jackson Pollock and Lee Krasner's Hamptons cottage, step into the homes and studios of illustrious American artists and witness creativity in the making. Celebrating the twentieth anniversary of the Historic Artists' Homes and Studios program of the National Trust for Historic Preservation, this is the first guidebook to the forty-four site museums in the network, located across all regions of the United States and all open to the public. The guide conveys each artist's visual legacy and sets each site in the context of its architecture and landscape, which often were designed by the artists themselves.

Through portraits, artwork, and site photos, discover the powerful influence of place on American greats such as Andrew Wyeth, Grant Wood, Winslow Homer, and Donald Judd as well as lesser-known but equally creative figures who made important contributions to cultural history-photographer Alice Austen and muralist Clementine Hunter among them.
Praise For Guide to Historic Artists' Homes & Studios…
"Guide to Historic Artists' Homes and Studios explores three centuries of the United States' artistic heritage, visiting the places where artists were inspired to create some of the country's greatest art. The book travels across America, from Maine to Montana and beyond, to the spaces where over 300 artists lived and worked."
- Frommer's

"Balint has authored a 256-page paperback book sturdy and lightweight enough to bring along. Its no-nonsense title reflects its status as the first-ever guidebook to the Historic Artists' Homes and Studios (HAHS) network....It contains 225 photos mixing interior and exterior shots, portraits of the artists, and examples  of their artistry."
- Fine Art Connoisseur

"In a spectacular location, perched on the rocky coastline of Maine is the home of painter Winslow Homer. His violent yet romantic paintings of the rugged geography of Maine are what made him famous. Homer's house is just one of 44 collected by the National Trust for Historic Preservation in Historic Artists' Homes Studios. From Georgia O'Keefe's light-filled ranch to the immaculate home of sculptor Augustus St. Guadens, it's likely not only to influence some design touches for your own home, but may also inspire your next getaway."
- The Daily Beast

"A rough cross-section of 19th and 20th century American painters, sculptors and other visual artists familiar or otherwise. The overall impression: artists' environments are as different from one another as the art they produce."
- Shepherd Express

"Take an art-themed road trip from the comfort of your couch with the new Guide to Historic Artists' Homes Studios by Valerie A. Balint...The book celebrates preserved artists' homes and studios across 21 states, representing the legacies of more than 300 artists over three centuries. Weaving the history of the sites' architecture and landscape with the artists' biographies and their work, the guidebook also serves as a way to plan an itinerary when you are ready to visit these sites in person."
- The Boston Globe

"If a roadtrip is in your future, a new publication from Princeton Architectural Press may be just what you need to add some art history to your vacation. Celebrating the twentieth anniversary of the Historic Artists' Homes and Studios program of the National Trust for Historic Preservation, Guide to Historic Artists' Homes and Studios, by Valerie A. Balint, will lead you to some of America's art historical gems."
- Art Object

"In celebration of the 20th anniversary of its program that documents a network of historic artist museums across the United States, the National Trust for Historic Preservation?s new book serves as a guide to the live work spaces of notable American artists. Each site functions as a house museum, so they?re all open to the public, but if your travels can?t take you to these home studios, this book will take you there visually."ÿ
? Houston Chronicle

"Have you ever wondered what the inside of Jackson Pollock's studio looked like? If Winslow Homer's studio had an ocean view? Where Daniel Chester French created his monumental works? Or just wanted to see Georgia O'Keeffe's studio?...Filled with colorful photographs of the sites, as well as artwork on site and portraits of the artists, [Guide to Historic Artists' Homes Studios]ÿis split into geographic regions, allowing the reader to see which artists' homes and studios are available to view in their area or in a place they plan to visit."
? Berkshire Eagle

"The perfect book for art lovers dreaming of a post-pandemic journey across time and geography."
- San Francisco Chronicle

"Beautiful and fascinating....An Atlas of Geographical Wonders offers a unique look at a period when people used maps to learn, to daydream, to imagine the immensity of the world."
The Journal of Alta California

"[The] book offers an inside view of the homes and studios of American artists throughout history....Through the book, it becomes apparent how the personal spaces of these artists impacted their work, potentially giving an idea of how we can embrace our own spaces as we stay home more often than not."
- Smithsonian Magazine

"From extravagant estates in the tranquil countryside to more modest living quarters in the heart of a city, artists' homes and studios play an integral role in their creative processes...Guide to Historic Artists' Homes Studios, serves as the first guidebook highlighting the sites included in the HAHS network. Valerie Balint weaves together images of each location with portraits and artwork for 256 pages brimming with beauty, along with helpful context."
- Cottage Journal

"Covers sites that reflect the depth and the span of American art. When we can safely travel again, this book will be invaluable. As it is, the guide gives a fascinating glimpse of these artists and their creative environment ?- gardens, architecture, etc. ?- which should also inspire digital exploration as well."
- Arkansas Democrat Gazette

"A book that's as beautiful as it is informative-and it's the perfect way to experience these sites while many remain closed due to the coronavirus pandemic."
- Architectural Digest

"A Baedeker for the summer road trip in a season when recreational travel, if at all, will largely be by car. Here readers starved for aesthetic nourishment will find 44 destinations, each unique, all exceptional."
- Antiques and Arts Weekly
Princeton Architectural Press, 9781616897734, 256pp.
Publication Date: June 2, 2020
About the Author
Valerie A. Balint is program manager of Historic Artists' Homes and Studios. Based in New York's Hudson Valley, she is former Interim Director of Collections and Research at Frederic Church's Olana (a HAHS site) and a longtime advocate of preserved artists' spaces and public art.