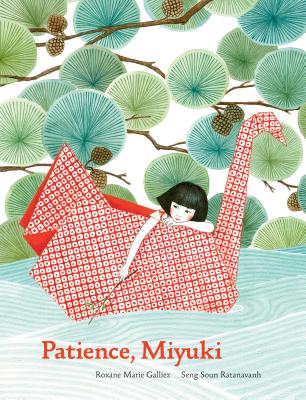 Patience, Miyuki
(intergenerational picture book ages 5-8 teaches life lessons of learning how to wait, Japanese art and scenery)
Hardcover

* Individual store prices may vary.
Description
Anyone with a small child knows that patience is not a virtue easily won. In this magically illustrated story the young girl Miyuki, who we first met in the critically acclaimed Time for Bed, Miyuki, anxiously awaits the opening of one sleepy flower. When, on the first day of spring, the flower still hasn't bloomed, Miyuki begins a frantic search for water to wake it up. Her grandfather gently encourages her to sit and watch with him, as she learns the important lesson that good things come to those who wait.
Praise For Patience, Miyuki: (intergenerational picture book ages 5-8 teaches life lessons of learning how to wait, Japanese art and scenery)…
STARRED REVIEW "Bursting with enthusiasm at the first signs of spring, Miyuki ignores her grandfather's reminders to be patient and wanders far from home in search of the purest water to entice a promising bud to blossom. The book's springtime scenes, lucky cats, and colorful yukata in origami paper patterns pay cheerful tribute to traditional Japanese style and customs. It's destined to be a modern classic."
- Foreword Reviews

"Galliez's lively, descriptive text pairs nicely with Ratanavanh's bright, graphic illustrations that feature bold floral patterns in red, yellow, and green as well as iconic Japanese objects such as the swan. Throughout, natural elements such as flowers, rushing water, insects, birds, and more appear prominently both in the foreground and the background, and Ratanavanh plays a bit with perspective as well-sometimes Miyuki appears quite small next to a giant frog and a big white rabbit. Eager young readers will find a kindred spirit in eager Miyuki."
- Kirkus Reviews

"The illustrations in some picture books are so devouringly gorgeous that it almost doesn't matter what the words say. That's the case with Seng Soun Ratanavanh's pictures in Patience, Miyuki, which tells of a little girl's transports on the first day of spring. In glorious pictures that set a delicacy of line amid swaths of Japanese patterns, Ms. Ratanavanh plays with proportion in a way that evokes the swoops and darts of a child's imagination. Here Miyuki towers over the recalcitrant flower; there she's tiny enough to nestle in its rosy petals. It's a beauty."
- The Wall Street Journal

Patience, Miyuki is a magically illustrated children's picture book. The illustrations are gorgeously dreamy and intricately detailed, and they bring with them the joy of springtime and the energetic impatience of a young girl....This is a book to savor and a keeper for your home library.
- International Examiner
Princeton Architectural Press, 9781616898434, 32pp.
Publication Date: October 1, 2019
About the Author
Prize-winning writer, poet, and children's book author Roxane Marie Galliez has a doctorate in the history of ancient civilizations and traveled the Pacific Islands for several years as a researcher and journalist. She lives near Saint-Etienne, France.

A graduate of the School of Fine Arts in Paris, illustrator and painter Seng Soun Ratanavanh lives outside Paris, France.