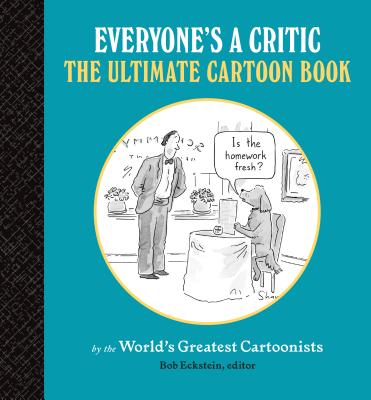 Everyone's a Critic (Hardcover)
The Ultimate Cartoon Book (cartoons by the world's greatest cartoonists celebrate the art of critique)
Princeton Architectural Press, 9781616898533, 144pp.
Publication Date: October 22, 2019
* Individual store prices may vary.
Description
We are all critics now. From social media "likes" to reviews on Yelp and Rotten Tomatoes, we're constantly asked to give our opinion and offer feedback. Everyone's a Critic is a curated collection of the best and brightest New Yorker cartoonists celebrating the art of the drawn critique, whether about restaurants, art, sports, dates, friends, or modern life. Featuring the work of thirty-six masters of the cartoon, including Roz Chast, Sam Gross, Nick Downes, Liza Donnelly, Bob Mankoff, Michael Maslin, and Mick Stevens, over half the cartoons in this book appear in print for the first time.
About the Author
Bob Eckstein is an illustrator, cartoonist, and writer whose work frequently appears in the New Yorker, the New York Times, and MAD magazine. He is the author of Footnotes from the World's Greatest Bookstores and, most recently, The Ultimate Cartoon Book of Book Cartoons.
Praise For Everyone's a Critic: The Ultimate Cartoon Book (cartoons by the world's greatest cartoonists celebrate the art of critique)…
"Bob Eckstein...has picked a perfect topic in the internet age, criticizing, rating, and ranking the work of others has become easier and more widespread, and the opportunities for humorous observations about that phenomenon have multiplied as well....This book isn't just a collection of reprints: more than half of these cartoons have never been published before, making this volume a worthwhile purchase for casual and die-hard cartoon fans alike. Funny and insightful, topical in its scenarios yet timeless in its treatment of them, Everyone's a Critic holds up well to criticism."
- Foreword reviews

"Whether you consider yourself a critic or you're tired of being criticized, you'll find something to make you laugh in this book. That, or I'll give your sense of humor 1 star out of 5. (Hey, the book is funnier than I am.)"
- GeekDad

"Princeton Architectural Press has published the bookswith class and quality - a rarity in publishing."
- Edward Koren, New Yorker cartoonist

"For those in search of humor during life's biggest moments, Everyone's a Critic is a curated collection of both old and new work by the world's best New Yorker cartoonists
- Parade

"Everyone's a Critic is an intelligent, hilarious discourse on modern-day criticism, featuring everything from judgmental cavemen to altruistic burglars to a police sketch artist with more lofty ambitions. With work from acclaimed contributors like Roz Chast, Bob Mankoff and Liza Donnelly, Eckstein summarizes the book in his introduction when he declares, "I'm hoping this book can be a life-changing experience for those who up until now have been unable to roll with the punches or simply enjoy a chef's salad."
- Shelf Awareness